Aarau, Switzerland – 15 May 2012 – Digital asset management (DAM) software maker Picturepark® has released SharePoint Connector for Picturepark, a fully-featured digital asset management layer for Microsoft SharePoint. Leveraging the approval workflow, security and asset processing options built into the Picturepark DAM, SharePoint customers can now more easily create and manage their digital assets right from within SharePoint.
"Working alongside Picturepark, SharePoint's powerful content management and collaboration features can now provide enterprise users with a feature-complete workflow for digital asset production," said Picturepark CEO, Ramon Forster. "All the DAM control SharePoint organizations need to better manage the files, and easily and securely share outside the enterprise, is now available through the SharePoint Connector for Picturepark."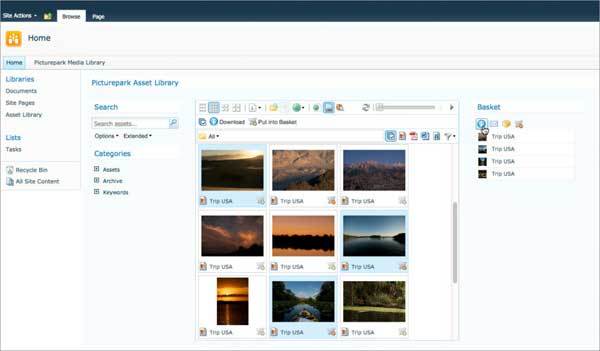 SharePoint Connector for Picturepark provides a SharePoint Web Part that serves as a live portal through which users find and access assets in Picturepark. SharePoint users can also import assets from Picturepark to be placed on SharePoint pages. All SharePoint file types are supported, including images, videos, AutoCAD, PDF and Microsoft Office. SharePoint users can be notified when new or updated files are available, and accounts on the Picturepark DAM are not required.
"What we've done is add a layer of digital asset management right over existing SharePoint installations, without disrupting SharePoint users," explained Hector Medina, Picturepark Director of Sales for the Americas. "Even better, use Picturepark's SharePoint Connector and Dropbox Connector side by side and you have a complete solution for DAM-controlled digital asset development, collaboration and direct-to-mobile file syndication."
Dropbox Connector for Picturepark was released by the company in April. SharePoint Connector for Picturepark is available now. Picturepark account representatives are available to provide further information.
About Picturepark
Picturepark digital asset management software enables organizations to centrally store, manage and share digital assets on a modern service-oriented architecture (SOA) that is scalable, based on open standards, and available in the Cloud (SaaS), on-premise or in hybrids. Picturepark is suitable for enterprise-wide DAM deployment thanks, in part, to load-balancing, failover, service-based computer clustering, and support for true multi-tenant deployment. Adaptive Metadata technology enables each class of asset to have its own metadata schema that can evolve over time. Support for multiple taxonomies and controlled vocabularies is standard. The Picturepark Web Services API enables developers to integrate Picturepark with other systems. Embedded and branded Web portals based on HTML5/CSS can be built using the graphical Picturepark Ports tool.