Aarau, Switzerland – 27 June 2011 – On June 24th the market-leading Swiss Digital Asset Management solution Picturepark® was released in its major new version 8.0. The latest Picturepark 8.0 continues to provide a user-friendly experience in DAM with sophisticated support for multilingual taxonomies and multiple stakeholders on a single platform, addressing marketing and communications of companies of all sizes and throughout all verticals.
Picturepark 8.0 is a significantly reworked version of the market leading Digital Asset Management solution that has made customers life in marketing, communication and documentation considerably easier for over a decade. The new version marks the end of a multi-staged, three yearlong transformation of technology and architecture and can safely be called a third generation DAM.
Flexible and user-friendly
"It is our primary objective to provide, in one unified system, both the flexibility required for large enterprise deployments and the user-friendliness known from consumer applications", says Ramon Forster, CEO of Vision Information Transaction Ltd., the company behind Picturepark and adds, "running Picturepark in our own private cloud for a broad range of customers for more than ten years has helped us to thoroughly understand and take serious the requirements of these diverse stakeholders."
Strong taxonomy support
The new version of Picturepark strengthens support for multilingual use cases. Single fields can be enabled to be multilingual e.g. for more internationally published assets, avoiding to tag all information of all assets in these languages. Additionally, every taxonomy tree can be defined in as many languages as required, helping international users to find corresponding assets in their mother tongue while relieving administrators from tagging hundreds of thousands of single asset in multiple languages.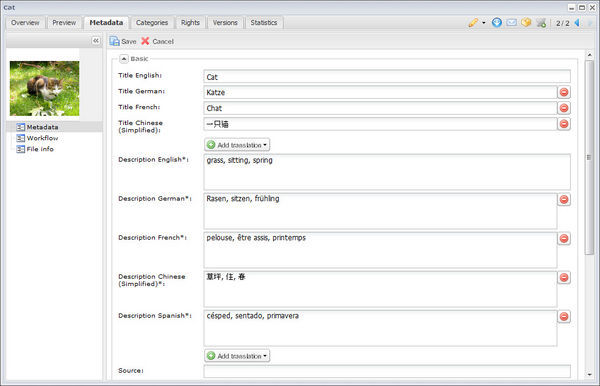 Multi-tenant corporate solutions
Many large corporations do have multiple stakeholders such as departments, business units or country organizations with the need to manage their own assets, users and processes. Involving them in a single corporate DAM platform and keeping their strong particularities at the same time is often challenging. With Picturepark 8.0 a corporation can host an unlimited number of stakeholders on a single scalable solution, providing each one of them with his own channel, specific or common taxonomies, his own metadata fields and user management.
Business models for agencies
"The comprehensive multi-tenancy is not only interesting for large enterprises but also for agencies as they can now host all their customers on a single platform whereby every customer stays in his own branded environment", says Ramon Forster. "This way, the agency provides added value or a commercial offering and can scale up with demand. Depending on its own pricing, an agency only needs two or three clients in the beginning in order to become profitable with this service".
Strong technological foundation
The new software core of Picturepark 8.0 is based completely on .NET technology and has a modern architecture, which strongly simplifies extensive configurations and also the expansion through programming. "Picturepark runs fast, saves system resources and is extremely well scalable on infrastructure," says Thomas Wackersreuther, Head of IT & Development, and adds: "With the new version 8.0 we bring our ten years of experience in Picturepark hosting services to every single deployed server, making the management of millions of assets even smoother than it ever was before."
Attractive price model
Picturepark 8.0 system is not only scalable with regard to infrastructural requirements, performance and functionality, but also with regard to pricing, featuring a customer-friendly single scale license model. "We successfully address all B2B segments, be it smaller companies or large corporations, and all verticals," Ramon Forster says, something he sees also as an important success factor in international sales which has in series more than doubled this year.
Historical perspective
Since 1997 Picturepark has provided customers with small to large-scale solutions in the area of Digital Asset Management. Evolving from an image and PDF bank, the system has over time become a true player in the market, capable of managing all digital assets such as images, videos, layout documents, presentations and much more. Over the years, Picturepark has been reengineered and consolidated twice whereby the latest Picturepark 8.0 marks the most comprehensive new version of Picturepark, strongly founded on .NET technology.
About Picturepark
Picturepark digital asset management software enables organizations to centrally store, manage and share digital assets on a modern service-oriented architecture (SOA) that is scalable, based on open standards, and available in the Cloud (SaaS), on-premise or in hybrids. Picturepark is suitable for enterprise-wide DAM deployment thanks, in part, to load-balancing, failover, service-based computer clustering, and support for true multi-tenant deployment. Adaptive Metadata technology enables each class of asset to have its own metadata schema that can evolve over time. Support for multiple taxonomies and controlled vocabularies is standard. The Picturepark Web Services API enables developers to integrate Picturepark with other systems. Embedded and branded Web portals based on HTML5/CSS can be built using the graphical Picturepark Ports tool.