Aarau, Switzerland – 22 June 2011 – Agencies in the area of marketing, communication, brand management, web solutions etc. have to provide additional value to their clients within a more and more competitive market environment. Picturepark provides agencies with unique capabilities to increase added value of their offerings by managing multiple clients on one cost-effective Picturepark platform.
With Picturepark agencies are able to extend their solution portfolio in multiple ways and therefore provide additional value with various ways: the technical operations are outsourced, customer employees can access an attractive platform anytime, data exchange and communication becomes accelerated, the effort for administration as well as the waiting period for clients is shorter, the quality of work increases.
Furthermore, the agency can provide chargeable services e.g. indexing, quality assurance and the complete management of the digital asset management solution. Simultaneously, recurring tasks like data conversion or distribution are being eliminated, tasks which became more difficult to charge to the client.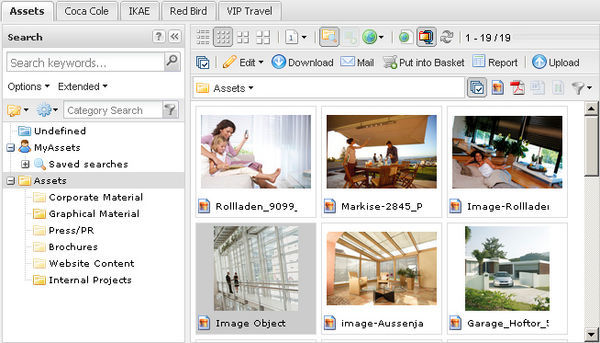 Picturepark provides unique channels, which represent independent category or taxonomy structures. For each individual client, a so called channel can be provided as a self-contained area within the solution. Multiple clients can therefore be hosted on one Picturepark platform – without the awareness of each client.
Download formats e.g. for office or press usage enable the customer to download relevant content directly 24/7 without having access to high resolution files. The central administration of all agency clients on one central server provides transparency and order for the internal organization and acts cost minimizing with respect to the required infrastructure.
Picturepark is licensed according to the special requirements of an agency and provides attractive possibilities for generating additional revenue. The agency has minimal investment and operational costs, which results in profit even with a small number of clients. The solution can be operated on onsite servers of the customer or agency or even as Software as a Service (SaaS) Hosting at the Swiss vendor of Picturepark. Especially with SaaS, no additional investments for hardware and internet infrastructure are required.
About Picturepark
Picturepark digital asset management software enables organizations to centrally store, manage and share digital assets on a modern service-oriented architecture (SOA) that is scalable, based on open standards, and available in the Cloud (SaaS), on-premise or in hybrids. Picturepark is suitable for enterprise-wide DAM deployment thanks, in part, to load-balancing, failover, service-based computer clustering, and support for true multi-tenant deployment. Adaptive Metadata technology enables each class of asset to have its own metadata schema that can evolve over time. Support for multiple taxonomies and controlled vocabularies is standard. The Picturepark Web Services API enables developers to integrate Picturepark with other systems. Embedded and branded Web portals based on HTML5/CSS can be built using the graphical Picturepark Ports tool.