Aarau, Switzerland – 03 October 2011 – A new version of the leading Swiss digital asset management solution, Picturepark 8.1, was released at the end of August. Picturepark 8.1 offers a completely reworked Creative Connector for integration into the Adobe Creative Suite as well as a host of other improvements.
With the Creative Connector, Picturepark assets can be checked out directly to the local system and edited there with any installed program. The Creative Connector monitors the versions and allows for synchronisation. It also has an InDesign plugin, with which pictures can be placed directly out of Picturepark. Subsequently, the template with all the links can be uploaded to and managed in Picturepark as a virtual package. Hereby you will retain all your links and you can go to the corresponding image from the template with the click of a mouse.
We have also renewed the duplicate check: On import each asset is checked for potential duplicates. In addition, any authorized user can also start the duplicate check directly in Picturepark and clean up any redundant assets.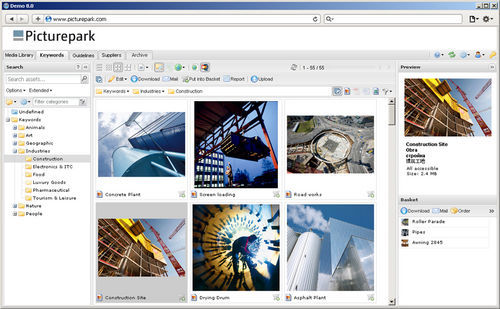 With version 8.1 Picturepark has expanded its supported media files and now offers previews and file conversions for RAW formats from selected camera models from commercial providers such as Canon, Nikon, Sony, Olympus, Leica, Minolta etc.
Authorised users can now save more than just personal search queries. They can now also publish these and thereby make the data more easily available to selected user groups via filters. Another new addition to Picturepark is the CSV Metadata import, through which assets can be indexed by using an Excel or CSV file.
With Picturepark 8.1 numerous other innovations and improvements have been made to simplify the use of the solution. Work on the next minor version has already been underway for some time and the release of the next version 8.2 is expected in November this year.
Use Channels meaningfully
With Picturepark channels assets can be structured in many ways: each business unit or division, each department or each internal/external customer receives a channel in which they can create their own structure and independently manage their own assets.
Since Picturepark 8 each channel can also have its own branding: e.g. another color or header with logo and further information (e.g. responsibility, conditions of use etc.). Together with the multi-client user management a channel thereby becomes a media database within a media database.
The creation of a channel is very flexible: each category can appear as a channel, sorted accordingly and if required with its own icon. With Picturepark 8 you can now also have a "master channel", which contains all other channels which allows cross-area searching.
Incidentally: Channels can also be used elsewhere, e.g. to represent the life cycle of assets and thus also reflect the release stages (draft, current, archive), to represent media types (pictures, videos, documents) or to model alternative taxonomy structure. A channel can also simply be an embedded HTML page which, for example, contains the CI/CD guidelines or detailed contact
About Picturepark
Picturepark digital asset management software enables organizations to centrally store, manage and share digital assets on a modern service-oriented architecture (SOA) that is scalable, based on open standards, and available in the Cloud (SaaS), on-premise or in hybrids. Picturepark is suitable for enterprise-wide DAM deployment thanks, in part, to load-balancing, failover, service-based computer clustering, and support for true multi-tenant deployment. Adaptive Metadata technology enables each class of asset to have its own metadata schema that can evolve over time. Support for multiple taxonomies and controlled vocabularies is standard. The Picturepark Web Services API enables developers to integrate Picturepark with other systems. Embedded and branded Web portals based on HTML5/CSS can be built using the graphical Picturepark Ports tool.