Aarau, Switzerland – 17 November 2011 – The market-leading Swiss Digital Asset Management solution Picturepark® has been released in version 8.1.9 this week. With this new version, Picturepark can meet highest data loads and offers a multitude of additional features required for building Enterprise DAM solutions such as multi-language support, granular permission management and a powerful API.
With an inconspicuous minor release, Picturepark 8.1.9 offers all the important features required for real DAM solutions in the Enterprise segment.
Extensive multi-tenant capabilities
Using Picturepark an enterprise business can provide to, and operate, multiple stakeholders on a single platform whereby each stakeholder can use his own or a shared corporate taxonomy, have his own metadata fields and also manage his own users in a self-contained way. This enables the independent management as well as easy distribution of various stakeholders' images, videos, presentations and other media assets through a central platform.
Search in multiple languages
Supporting multiple languages for taxonomy and metadata, Picturepark allows the tagging of all or only a few assets in a multi-lingual way whereby taxonomy structures only need to be translated once and can then be applied easily to single assets. This greatly improves the corporate-wide search experience and keeps efforts for tagging low. The search always takes into account synonyms and singular/plural forms and ranks results in a meaningful way.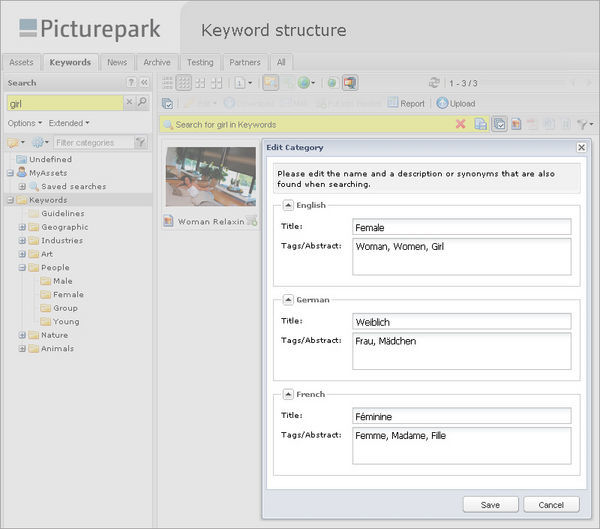 Powerful rights management
Extremely granular rights help to keep full control over all the data in Picturepark. For instance, rights for each asset and derivative/format (e.g. high-res or low-res) can be independently and individually defined, if required. More rights for taxonomy structures, metadata fields and even user groups allow Picturepark to fulfill a multitude of use cases.
Solid technology
Picturepark 8 is based on a modern service-oriented architecture (SOA) developed in C# and run under .NET and IIS. For storage a MS-SQL-Server or other database is used together with the file system. Default integration into Active Directory using LDAP or SSO with other user management systems is possible. The system can cope with highest load in a demanding environment, providing the possibility to single-source resource-consuming tiers/services and to operate each of them in a cluster. Picturepark can be purchased as an install license or a subscription service for SaaS and the cloud.
Deep and easy integration
A comprehensive webservice interface allows the seamless integration of Picturepark into 3rd party applications. Digital assets can thus be directly tagged by SAP, e-commerce shops can be directly equipped with image or video material or editors can directly place matching images out of Picturepark into any print publication or their CMS. Wherever the asset is finally used – Picturepark knows and controls the corresponding usage. For a fast growing number of 3rd party systems ready-made connectors can be directly plugged in.
High scalability with regard to performance, functionality and costs
"It is and remains our primary objective to provide a single system that is highly scalable with regard to performance, functionality and costs to all our customers and partners of all sizes and verticals, allowing them to efficiently address Digital Asset Management in an integrated environment", explains Ramon Forster, CEO of Vision Information Transaction AG, the Swiss company behind Picturepark. "Our strong customer-orientation, which was cultivated through early provisioning of SaaS and Cloud hosting since 1997, helps us greatly in achieving this objective".
About Picturepark
Picturepark digital asset management software enables organizations to centrally store, manage and share digital assets on a modern service-oriented architecture (SOA) that is scalable, based on open standards, and available in the Cloud (SaaS), on-premise or in hybrids. Picturepark is suitable for enterprise-wide DAM deployment thanks, in part, to load-balancing, failover, service-based computer clustering, and support for true multi-tenant deployment. Adaptive Metadata technology enables each class of asset to have its own metadata schema that can evolve over time. Support for multiple taxonomies and controlled vocabularies is standard. The Picturepark Web Services API enables developers to integrate Picturepark with other systems. Embedded and branded Web portals based on HTML5/CSS can be built using the graphical Picturepark Ports tool.