Aarau, Switzerland – 27 February 2012 – The Swiss based market-leading Digital Asset Management Solution Picturepark® version 8.2, has been release as of February 10, 2012. Picturepark latest release primarily features a comprehensive extension into the Adobe Creative Suite and also introduced a set of new tools to strengthen the rapidly growing partner business.
With the release of Picturepark 8.2, the market-leading Swiss software for Digital Asset Management and Brand Management demonstrates its strict focus on end user and market demand by extensively supporting creative workflows, system integration as well as ease of deployment and maintenance.
Extensive support for Creative Workflows
Picturepark 8.2 comes with a greatly enhanced support for creative processes and integration into Adobe Creative Suite. Using plug-ins in Photoshop, Illustrator and InDesign, users can easily open assets directly from the Picturepark system, modify locally and save back, overwriting the existing asset, appending as the latest version or creating a completely new asset. In InDesign, assets can be placed directly from Picturepark and are kept as virtual packages, allowing users to jump from used resources to the template, and vise-versa. Finding all print materials which contain an expired image has never been easier.
Preflight mode and PDF rendering
Especially in collaborative environments, updates often occur on a central file which shall trigger consequent updates. As a novelty, Picturepark offers a preflight mode which makes it easy to see if links have changed locally or on the Picturepark system while working on the job, and to synchronize the files if needed. Additionally, the files in Picturepark can be easily kept as versions, and recover such if required. When checking-in a virtual InDesign package, a PDF is automatically rendered and can be provided as e-book or X3-download alongside the template – subject to user permissions.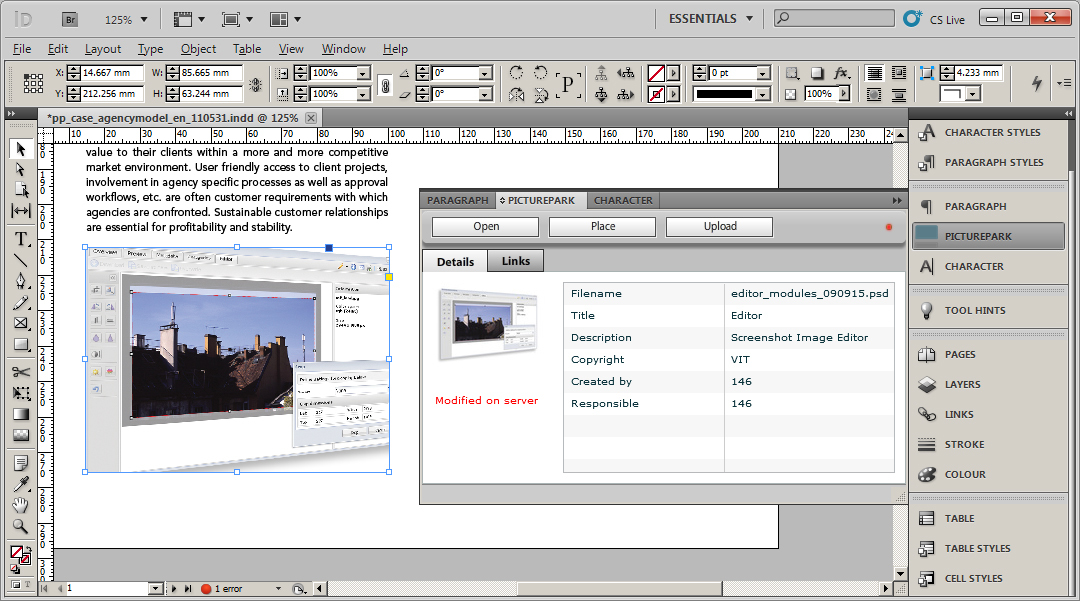 Feature-rich conversion on the server
An additional feature often helpful for creative work is image manipulation and conversion, executed directly on the server. Picturepark 8.2 features a comprehensive image editor going beyond what is usually offered with DAM systems by allowing to define presets for cropping and output formats which can be applied by users – if they have the appropriate permissions which can be defined per each preset. Now it becomes very easy for web editors or PowerPoint designers to directly render images that fit their placeholders.
HTML5 playback, branding
Besides the Flash-based previewing of videos, Picturepark 8.2 now also features HTML5 playback and supports increasingly popular tabled devices. Insight into system usage is greatly extended by adding search queries to the statistical reporting, allowing to see and analyze which queries have been executed, re-execute them and improve results where required. A rework of the Typo3 plug-in helps to synchronize data into typo3 asset galleries or to place images in a more interactive approach directly onto web pages.
Helpful tools for migrations & partners
Facing a wave of replacements of older generation DAM systems, Picturepark 8.2 also addresses improved support for data migration. Extended CSV import functions allow to tag pre-imported assets with huge batches of asset metadata records, or to upload multi-level taxonomy or category structures and populating them with assets according specified mappings in the CSV (or Excel) file. Additionally, the latest Picturepark installation wizard shipped with Picturepark 8.2 offers a high degree of automation, reducing time for setup considerably, providing adequate documentation for more sophisticated network installation scenarios.
Robust and scalable technology
Picturepark 8 is based on a modern service-oriented architecture (SOA) developed in C# and run under .NET and IIS, Windows Server-based. For storage a MS-SQL-Server or other database is used together with the file system. Default integration into Active Directory using LDAP or SSO with other user management systems is possible and a comprehensive web service interface allows the seamless integration into any 3rd party application. The system is optimized to cope with the highest demand, providing the possibility to cluster some service tiers. Picturepark can be purchased as an install license or a subscription service for SaaS and the cloud.
About Picturepark
Picturepark digital asset management software enables organizations to centrally store, manage and share digital assets on a modern service-oriented architecture (SOA) that is scalable, based on open standards, and available in the Cloud (SaaS), on-premise or in hybrids. Picturepark is suitable for enterprise-wide DAM deployment thanks, in part, to load-balancing, failover, service-based computer clustering, and support for true multi-tenant deployment. Adaptive Metadata technology enables each class of asset to have its own metadata schema that can evolve over time. Support for multiple taxonomies and controlled vocabularies is standard. The Picturepark Web Services API enables developers to integrate Picturepark with other systems. Embedded and branded Web portals based on HTML5/CSS can be built using the graphical Picturepark Ports tool.