Aarau, Switzerland – 18 April 2012 – Digital asset management (DAM) software maker Picturepark® has announced as of today the availability of their new Review Manager with Picturepark version 8.3 released on May 4, 2012. The Picturepark® Review Manager improves the reviewing and approval of content. It speeds up the creation process, and helps to save valuable resources as well as enabling the delivery of more accurate results.
Reviewing processes can be time- and resource-consuming with notes in a PDF or even scans and fax messages being sent back and forth. In the worst case you lose track of versions and need to start over again. Picturepark® Review Manager addresses these existing deficiencies in review and approval management and helps to obtain the results easier, faster and more reliably – even with multiple stakeholders in the process.
Review any material
Picturepark® Review Manager allows you to send your images, graphics, brochures, presentations or artwork files for review to internal or external participants. These are typically separated into roles such as reviewers that can comment and rate or approvers which can give final approval to the comments and materials. Deadlines can be provided both globally and per participant.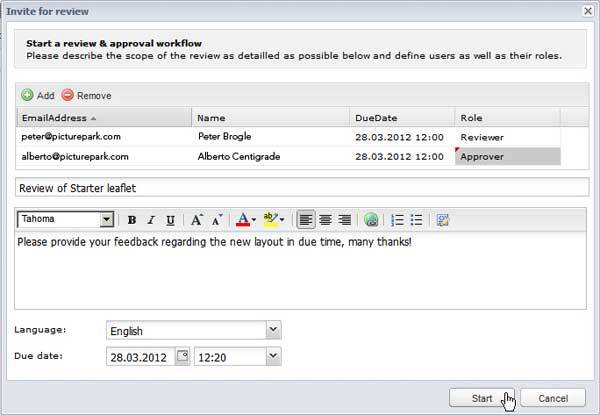 Ease of use
Once the assets are sent for review, all participants will get an invite by email and can start adding their comments – without having an account in Picturepark and without any training requirements as the user interface can be intuitively used. A zoom feature helps to examine details and all documents can be browsed page-by-page.
Bringing it to the point
Each asset in review can be commented, and markers such as arrows and shapes help any reader understand where exactly the change or comment applies to. Reviewers can reply to comments and also rate them, expressing their opinion on certain layouts, designs or texts.
Approve and forward for implementation
Participants with an approval role can additionally approve or reject comments, giving a reason if required and providing all the clarity needed for getting a final last version. Once a decision is made, approvers can also manually close the review and forward the outcome to someone for implementation of all the agreed changes or the creation of a new review.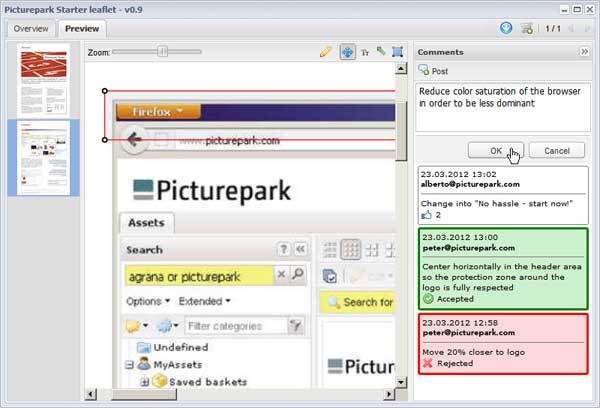 Staying involved
During the review, all information is exchanged and distributed to the participants in a digest mode so people are not bothered with too many notifications but are kept involved and can react e.g. if their comment was replied to.
Centralized review management
In the central review management of Picturepark, all active or archived reviews are available to review owners and approvers and anyone involved in an ongoing review can see the status of that review as well as continue contributing directly on the asset concerned. With Picturepark Review Manager, comments and ratings can also be made available for all assets in the system without them being part of a review workflow.
Learn more at http://picturepark.com
About Picturepark
Picturepark digital asset management software enables organizations to centrally store, manage and share digital assets on a modern service-oriented architecture (SOA) that is scalable, based on open standards, and available in the Cloud (SaaS), on-premise or in hybrids. Picturepark is suitable for enterprise-wide DAM deployment thanks, in part, to load-balancing, failover, service-based computer clustering, and support for true multi-tenant deployment. Adaptive Metadata technology enables each class of asset to have its own metadata schema that can evolve over time. Support for multiple taxonomies and controlled vocabularies is standard. The Picturepark Web Services API enables developers to integrate Picturepark with other systems. Embedded and branded Web portals based on HTML5/CSS can be built using the graphical Picturepark Ports tool.