Aarau, Switzerland – 16 September 2011 – The Creative Connector enables the use of images from Picturepark directly in Adobe programs such as Photoshop, Illustrator or InDesign. Resources can be managed centrally, controlled and directly used from Picturepark, whereby related images and InDesign templates are treated as virtual packages.
Central Storage
Picturepark is integrated directly into the operating system of the user with the Creative Connector, so that the user can directly access all assets and swap out files at any time. Images, vector graphics, InDesign templates and other assets can be checked out and modified with the corresponding programs such as Photoshop, Illustrator or InDesign. The processing takes place in the familiar environment of your own computer, opening the file takes place directly from InDesign, Photoshop or Illustrator.
Synchronisation of Changes
Each checked out asset is monitored by the Creative Connector and each change locally or on the central Picturepark server is shown, whereby the changed asset can be synchronised by pressing a button. Hereby complete local production structures can be mirrored in Picturepark and updated at any time. Data imports can be done via drag and drop, whereby even whole directory structures are maintained.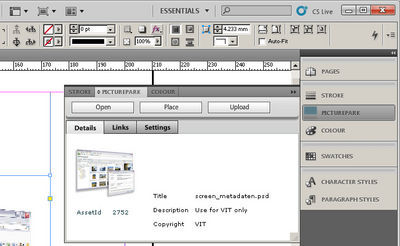 Import images to Adobe InDesign

InDesign Plugin
With the InDesign plugin, templates can be loaded directly from Picturepark and images can be conveniently placed. Picturepark always saves the links to all placed assets for images managed in this way. A template in Picturepark will therefore have all the images used listed and these can be accessed directly when browsing in the brochure. You can naturally also see which brochures are linked to a particular image. This information is extremely important, when an image expires and should also no longer be used in printed materials.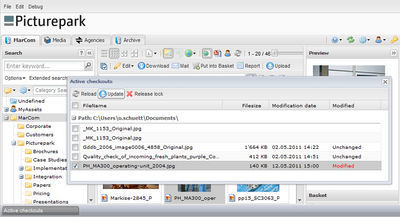 Overview of checked out assets with status information

Duplicate Clean Up during Import
If assets from a local directory are placed in addition to assets from Picturepark, then Picturepark will look for duplicates on import and offer appropriate actions. The images are then directly added to the virtual InDesign package. During an initial import existing local packages can also be imported and migrated into Picturepark.
Layouting in the Low-res Mode
For working over slower connections we recommend the low-res layout mode. Instead of the original files, smaller layout images are placed, which massively accelerates the process. The high-res data are only made available when printing or exporting.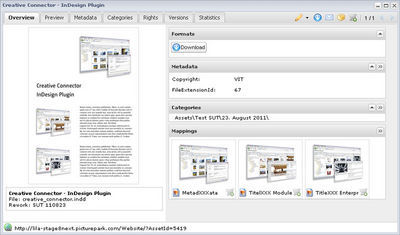 Virtual InDeisgn-package with linked assets

About Picturepark
Picturepark digital asset management software enables organizations to centrally store, manage and share digital assets on a modern service-oriented architecture (SOA) that is scalable, based on open standards, and available in the Cloud (SaaS), on-premise or in hybrids. Picturepark is suitable for enterprise-wide DAM deployment thanks, in part, to load-balancing, failover, service-based computer clustering, and support for true multi-tenant deployment. Adaptive Metadata technology enables each class of asset to have its own metadata schema that can evolve over time. Support for multiple taxonomies and controlled vocabularies is standard. The Picturepark Web Services API enables developers to integrate Picturepark with other systems. Embedded and branded Web portals based on HTML5/CSS can be built using the graphical Picturepark Ports tool.