DAM Connector for Vimeo from Picturepark
New digital asset management content connector enables one-step video uploads to public and private Vimeo channels
Aarau, Switzerland – 18 Oct 2016 – Digital asset management software maker Picturepark® announced today DAM Connector for Vimeo, which routes approved video content from Picturepark DAM to the Vimeo video platform.
"DAM Connector for Vimeo joins our video connectors for YouTube and Kaltura" said product manager, Stefan Seidl. "This enables Picturepark customers to manage videos in one place and distribute them through multiple channels just by adding a few tags."
Picturepark Adaptive Metadata™ layers make it easy for users to provide the metadata that makes videos easier to find on Vimeo. By adding a single tag on a Picturepark video content record, metadata fields appear for Vimeo title, description, the standard categories used on the Vimeo platform, user-specific tags and more. Picturepark connects to Vimeo and transfers the video in the background. Vimeo metadata can be updated at any time from Picturepark, and the videos themselves can be refreshed with updated versions.
In addition to Adaptive Metadata, the connector fully supports Picturepark's controlled vocabularies, which enable customers to lever structured metadata for improved consistency.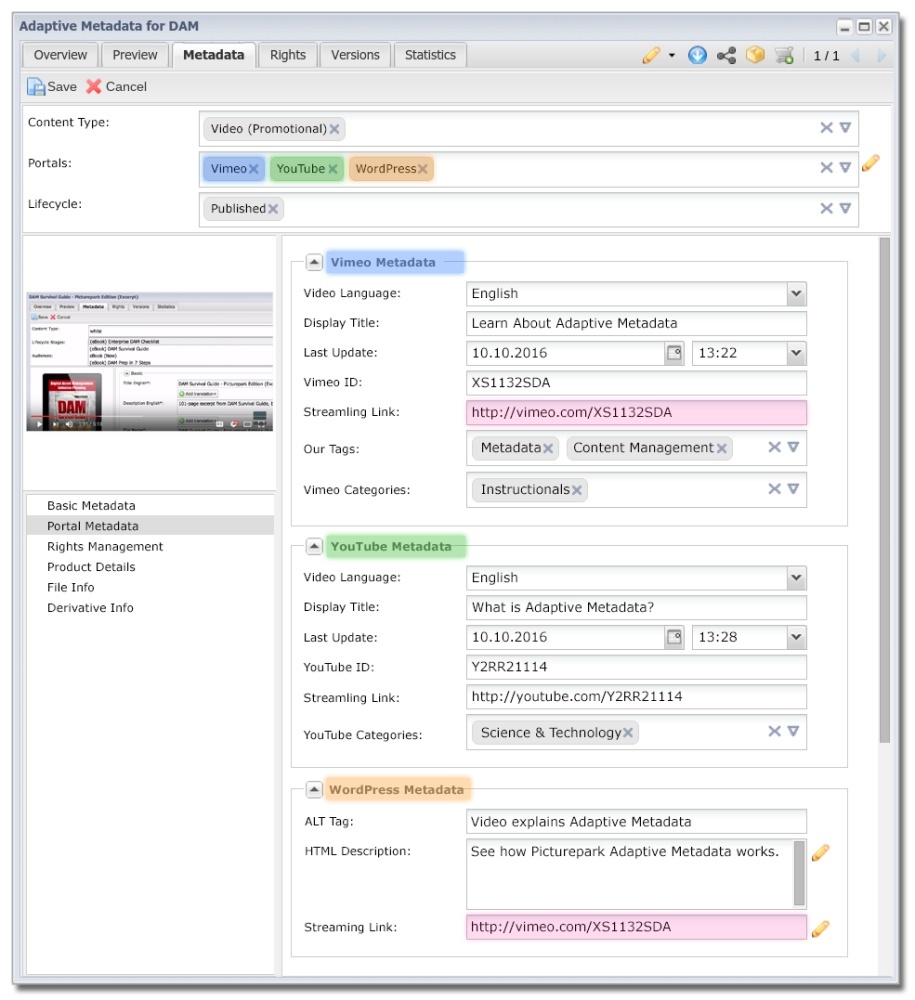 When the user adds the portal tag for Vimeo, YouTube or WordPress, the corresponding metadata fields appear. Those values are then used to exchange data with the connected system. In this example, the user has chosen to send the Vimeo playback link to the WordPress website. When the video is displayed on the website, it will be live-streamed from Vimeo.
Links to published videos are returned to Picturepark, where they become available to Picturepark users, and can be sent via other DAM connectors to Sitecore, WordPress, Drupal, SharePoint, Kentico, Lobster _PIM and other systems.
"Picturepark makes video links available for use in Web CMS, PIM (product information management) and other business systems," explained Picturepark marketing director, David Diamond. "This turns Picturepark into a content hub that enables users to reuse and promote those videos in more places."

About Picturepark
Picturepark digital asset management software enables organizations to centrally store, manage and share digital assets on a modern service-oriented architecture (SOA) that is scalable, based on open standards, and available in the Cloud (SaaS), on-premise or in hybrids. Picturepark is suitable for enterprise-wide DAM deployment thanks, in part, to load-balancing, failover, service-based computer clustering, and support for true multi-tenant deployment. Adaptive Metadata technology enables each class of asset to have its own metadata schema that can evolve over time. Support for multiple taxonomies and controlled vocabularies is standard. The Picturepark Web Services API enables developers to integrate Picturepark with other systems. Embedded and branded Web portals based on HTML5/CSS can be built using the graphical Picturepark Ports tool.