By Picturepark Communication Team • Dec 20, 2013
As the year draws to a close, we want to thank you for helping to make 2013 such an enjoyable and memorable year for us. This year has been a busy one for us but we're happy with the progress we've made in making our product and company more valuable to customers and the digital asset management community as a whole.
Product Initiatives
With the release of Picturepark 8.4, we introduced our Asset Class technology, which is what makes adaptive metadata and other wonderful DAM configurations possible. We admit that even we didn't fully appreciate the power this technology offers, but you can rest assured that we're only just getting started with it. Expect even more from Asset Classes in 2014.
Picturepark Ports were released with version 8.5, just a few months ago. The goal for Ports was to enable our partners and system integrators to build beautiful and functional custom interfaces to Picturepark. We think making digital assets available at the point of consumption will become increasingly important, so we're glad to offer a means for making that easier.
Most recently, we announced the Picturepark Regional Cloud, which will enable qualified partners to offer their own locally hosted DAM services anywhere in the world. With concerns over data privacy increasing, we felt that now was the right time for a Cloud DAM solution that could comply with any regulation. The first Regional Cloud was launched by DataBasics of Australia. Expect more Regional Cloud announcements throughout 2014.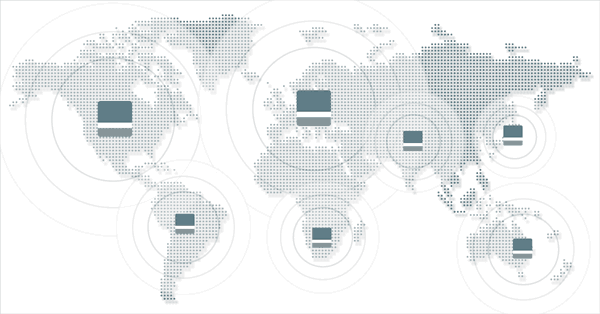 Picturepark Regional Clouds offer all the benefits of SaaS DAM, but in adherence with local regulation and corporate policy.
In addition to entirely new products and features, we also dedicated the release of Picturepark 8.5.5 to bug fixing and usability enhancements. Releases like this are never very exciting, but after having introduced so many new technologies into the product, we felt we needed to dedicate some time to basic cleanup of the code in preparation for bigger updates coming in 2014.
Education Initiatives
It's no secret that Picturepark has dedicated ample resources to DAM community education. We feel this investment of time and resources is worthwhile, so you can expect even more from us in this regard next year. Some of the more visible resources we released throughout 2013 include:
DAM Guru Program – Released in February as a global database of vendor-neutral DAM expertise, DAM Guru Program now has more than 300 members. DAM "newbies" are connected with "gurus" who offer advice and assistance in multiple languages and many time zones. The program held a job fair to connect gurus with employers, and it now features a weekly guru profiles . All services are free, and you can expect much more from the DAM Guru Program community in the coming months.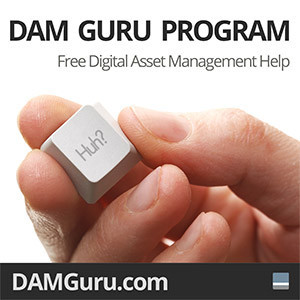 DAM Guru Program connects DAM experts with newbies and employers who need their help.
New Picturepark Website and DAM Innovation Blog – The new Picturepark website was a complete redesign of the previous site, and it features all new content. More than half of the site is dedicated to DAM educational materials that don't promote Picturepark software. The new DAM Innovation Blog is a mish-mash of topics that range from detailed information about Picturepark to tips for the DAM community, and more.

The all-new Picturepark website has become one of the most popular global websites for digital asset management educational materials, with more than 10,000 unique monthly visitors. (Source Act-On Analytics, November, 2013)
The Enterprise DAM Checklist – In order to define once and for all what "enterprise" actually means as it pertains to software, Picturepark authored this 45-page white paper. The goal for the document was to detail the technologies that should be expected in a truly enterprise-class digital asset management system, and to explain the functions of those technologies in easy language that anyone can understand.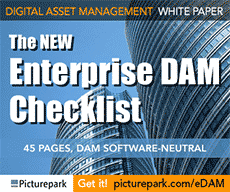 The Enterprise DAM Checklist provides 45 pages of software-neutral explanation of the technologies required for enterprise-wide DAM deployment. Download it now »
Webinars – Search for "digital asset management webinars" on Google or Bing to see how highly regarded the Picturepark webinar series has become, and for good reason. Picturepark's webinars are the only DAM vendor-sponsored webinars that are entirely software neutral and dedicated to quality DAM education. This year's webinars were "DAMs Gone Wild", which featured the DAM managers of Harley-Davidson speaking about how to regain control over a DAM that has been neglected. Next came "The Copyright Killings", which spoke to the effects of orphan works legislation and what it all means for content creators. "Be a DAM Superhero" followed, offering tips for DAM managers who manage large systems with little or no help. Rounding out the series for the year was "Meet the Mother of DAM", a candid discussion with Jennifer Neumann, the woman credited with launching the DAM industry. All Picturepark webinars are available for form-free viewing by anyone.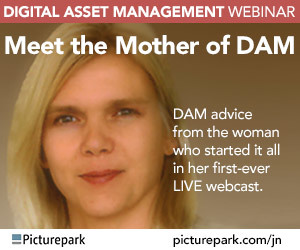 Picturepark's DAM webinars are regarded by Google and Bing as the most relevant DAM webinars in the industry. View the webinars »
DAMMY of the Year – In recognition for his efforts on these and other DAM education initiatives, including DAM Survival Guide, our own marketing director, David Diamond, was awarded the DAMMY of the Year, the industry's highest honor.
Picturepark global marketing director, David Diamond, was awarded "DAMMY of the Year," the industry's top honor. Diamond authored "DAM Survival Guide," one of the industry's most popular digital asset management books.
Business Initiatives
Picturepark secured partnerships in four important regions where we previously had no partner presence: Australia ( DataBasics ), Finland ( Communication Pro ), Belgium ( Catena Company ) and Italy ( Weappon ). Each of these partners comes to Picturepark with extensive experience in Digital Asset Management and related fields.
Picturepark expanded its global reach in 2013 with the addition of four new partners.
In order to thank individuals who are so enthusiastic about Picturepark that they recommend it to others, Picturepark launched the Picturepark Affiliate Program . The program was designed to function as a partnership between Picturepark and individual consultants, integrators and freelancers in the industry who are not affiliated with organizations.
As mentioned, it was a busy year!
We thank our customers, partners and industry friends for all their support and dedication to Picturepark throughout the year. We have good things in store for 2014.
Wishing you all a wonderful holiday season and new year,
The Picturepark Team