| | |
| --- | --- |
| | Synchronize, search and access your Picturepark content from within Lobster PIM. |

With this connector, you choose exactly which of your Picturepark content is synchronized to Lobster PIM, thanks to user-definable filter criteria. It's an ideal assistant in a wider eCommerce workflow, where Lobster PIM as a systematic PIM platform with integrated multilingual functionality and direct output to digital channels would typically be used. The connector keeps operations nimble: when using files, they're simply linked from Picturepark, delivering a seamless experience with faster load speeds and keeping heavy data where it belongs: the DAM.
User definable filter criteria: only synchronize the content you want.
eCommerce: ideal for part of wider product management or ecommerce workflow.
Lightweight Design: performance is prioritized, leading to lean working.
Dual Directional Write-Back: certain content & metadata can be written in both directions.
One Search: search once, yet receive results from two platforms.
Filter The Way you Want
While you may want to synchronize your Picturepark content on Lobster PIM, that does not necessarily mean that you want to synchronize all of your content. This is where the benefit of the connector's filter criteria comes into play: you can select which content is synchronized, according to user-defined criteria.
Filter criteria are useful for a range of use cases: key examples include being able to filter and synchronise only content which has been marked as final or filtering content that has been flagged, something achieved by using Picturepark Adaptive Metadata. Final content may not be immediately visible from a thumbnail preview, so marking content as final on Picturepark is a quick and precise way to identify that content is ready-to-use. The Lobster PIM connector can recognise content marked as final and this way, you can be safe in the knowledge that the same content will be correctly labelled across both platforms.

Picturepark allows for content to be flagged. This powerful feature is useful is a wide range of scenarios; content could be inappropriate as group photos may include staff who are no longer with the company, there could be adult themes present or there may be some 'off-brand' aspect e.g. a green energy provider using a video which features a polluting factory chimney.
Prioritizing Performance: Lightweight by Design
Fast performance is important when using platforms of any type. With this in mind, the Lobster PIM Connector for Picturepark has been built and configured recognizing that some content can be large in size. Instead of synchronizing high resolution images or print-ready files, the content continues to be hosted on the fast and reliable Picturepark Cloud service. This way, content is still findable via Lobster PIM; though performance is kept nimble.
Dual Directional Write-Back
With the intelligent capabilities of the Lobster PIM connector, you can write both metadata and content, in some areas, in both directions, using the Picturepark API. It's not only content or metadata that is taken from Picturepark: you can write from Lobster into Picturepark too.
This useful functionality means that it is not necessary to go back and forth between the two systems, switching between browser tabs. With this connector, it's a quick and simple workflow: update your product data on Lobster PIM, then your changes are carried over to Picturepark. Of course, the same applies in the other direction, when you make changes on Picturepark too. This dual directional feature allows either Picturepark or Lobster PIM to be used as the master source of data. It's ideal in specific use-cases such as regional dealerships for a brand, as sales people can efficiently find content based on product data e.g. showing everything from product line "DX500" that has been released in the current year.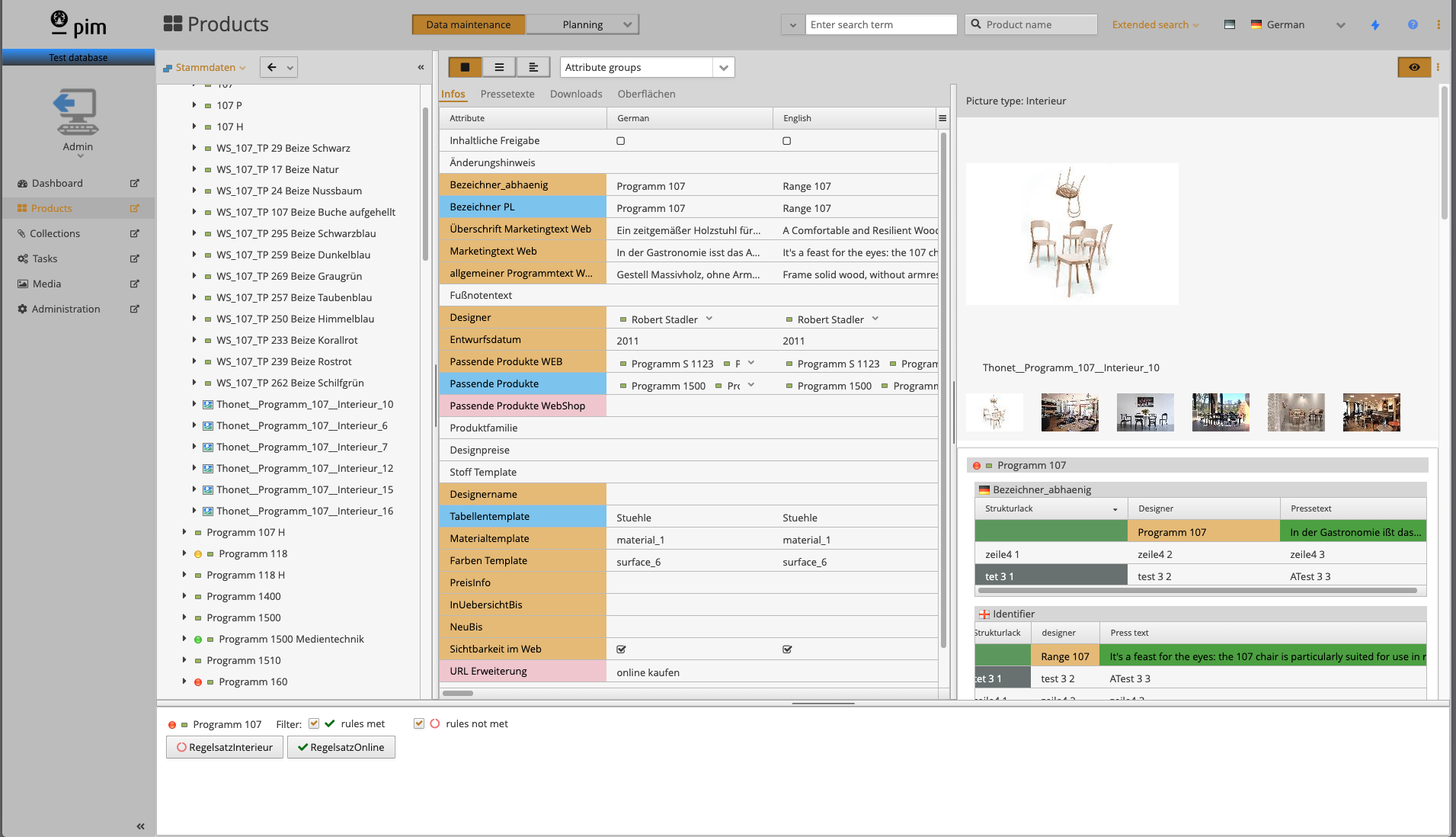 Search: One Search for Two Platforms
A key benefit of the Lobster PIM Connector is the ability to search once, yet get results from two platforms: thanks to the search functionality. It's ideal for the busy Product Manager who would usually be switching back and forth between their two platforms; instead all their Picturepark product data is all available within Lobster PIM. Cut down on time wasted searching across two platforms, copy and pasting identifiable information and instead go directly to the content you want.