| | |
| --- | --- |
| | Edit Adobe InDesign documents, using files stored on Picturepark, all from within a web browser. |

The 2imagine connector allows for InDesign documents to be edited in a web browser, using files managed on Picturepark. This offers a range of key web-to-print advantages, plus much more additional functionality.
Simplified workflows: no need to open any other programs, modify content fast, all without leaving the browser.
Skip lengthy localizations: franchisees and dealerships can make quick local variants of flyers, leaflets, labels & more.
Creative control: Picturepark admins can set permissions, ensuring originals are protected and stay brand-consistent.
Time-saving templates: users can take advantage of pre-designed templates, so that starting at 'square one' can be skipped.
Perfect for packaging: change key details on product packaging in just a few clicks.
Careful collaboration: files being edited can be locked, safe guarding against accidental overwrites.
Professionally Edit InDesign Files, Without Leaving Your Browser
The 2imagine connector allows for InDesign files to be edited in a web browser. This offers a range of key web-to-print advantages, plus much more additional functionality.
Adobe InDesign is used by designers, printers and graphic teams around the world. This is ideal as it has led to widespread adoption of InDesign formats. However, it causes an issue when those outside of the print and graphics industries are faced with the task of editing InDesign files. They have no experience of using Adobe InDesign, are unlikely to have their own licensed version or be familiar with the many precise tools and advanced settings available within the program.
2imagine provides a simple approach to the editing of InDesign files that suits everyone, no matter their level of skill or experience. Breaking down the usual barriers to InDesign: no Adobe license is required, no download is required and it skips the advanced functionality to instead provide a simple and intuitive interface. It's all there, in the same browser window they are using to browse Picturepark.
It's web-to-print, with additional layers of enhanced connectivity and functionality. No switch of programs are required, saving you time and allowing for maintained focus.
Skip out typical organizational bottlenecks: no longer is it required to wait for graphics teams to edit InDesign files; resulting in cost-saving too. It can all be done, direct in the browser and even on-the-go. Opening possibilities for more staff to work on files, saving costs through time saved and greater device availability as dedicated apps are not required.
A Wide Range of Possibilities
The 2imagine connector opens up a range of different possibilities but what specifically can users do?
Logos, photos and a whole range of other graphics on Picturepark, which are used within and linked to in InDesign, can be accessed for usage.
The 2imagine connector is an ideal scalable solution for teams, whether they happen to be internal or external. It's often local sales teams, dealerships or franchisee owners that know their own market best: in cases such as deciding which text details will work best on a new flyer or promotion on packaging. With the 2imagine web-to-print connector, that custom local-area-specific text can be added easily by those without graphic editing experience; all thanks to the ease-of-use of the user interface. Ideal for a pre-print review and edit.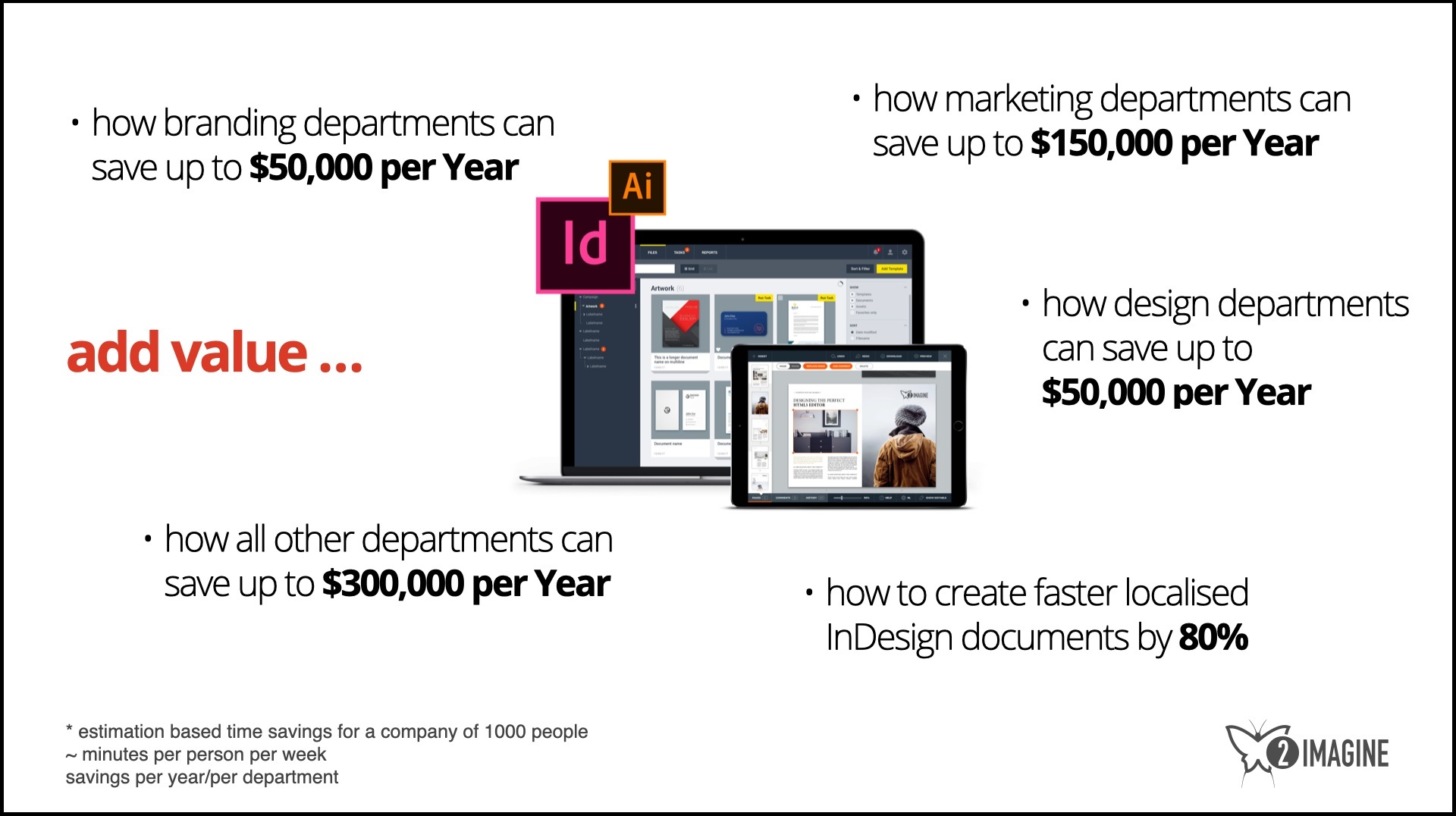 Maintain Creative Control & Brand Consistency

Brand consistency is important to all organizations, whatever their size. Picturepark allows for a high level of control over branding, with advanced user permission options which ensure that only approved files can be accessed or edited. The 2imagine connector supports these same user restrictions: allowing for peace-of-mind, adherence to corporate guidelines and avoidance of branding disasters!
For ensuring a high level of brand consistency, Picturepark admins can designate a specific range of images to choose from to be used on InDesign files and templates. This ensures that only the approved and up-to-date images can be used for web-to-print. After that it's as simple as crop and scale: job done!
Enhance Collaboration
Collaboration works best when everyone feels involved. 2imagine features a commenting section to assist everyone in getting their voices heard. With greater inclusion comes greater insight: this is furthered as the rich metadata viewing functionality featured in Picturepark is also available via the 2imagine connector. As a result, those editing files can quickly see resolution, last edited times and more; all at a glance.