With more than 30 campuses across the state, Northern Arizona University (NAU) offers quality education that is accessible to virtually all residents. To promote these resources, the university relies heavily on local advertising, most of which is print based, and all of which is managed using Picturepark.
The Challenge
Moving print-ready files from the peaks of Flagstaff across the state posed a challenge. Couriers were expensive, slow and not in line with the university's "green" philosophy. Email and other online options were tested, but they were often unreliable and they didn't enable NAU to confirm file delivery.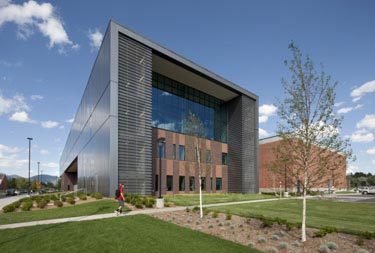 The Solution
After installing Picturepark digital asset management software, NAU could better manage its digital asset collections, and move files to and from anywhere at any time. Correct ads were delivered when needed, important research could easily be found, and NAU marketing coordinator, Heath Norton, could finally exhale.

"I used to waste hours hunting down files for others, or just trying to push massive files across the state. Using Picturepark, I can find any file and get it anywhere I need it in a minute or less."

Heath Norton, Marketing Coordinator
File Sharing you can Prove
Norton relies on the popular Asset Mailing feature in Picturepark to send advertising assets to Newsweek, The Arizona Republic, and other NAU advertising channels. By setting links to expire after only a few days, Norton knows older content won't be erroneously reused. He can even check download statistics that show when a file was downloaded and by whom.
"We used to send files via email. But if they didn't arrive, we wouldn't find out until it was too late. Now we know when the artwork was delivered, and we can prove it."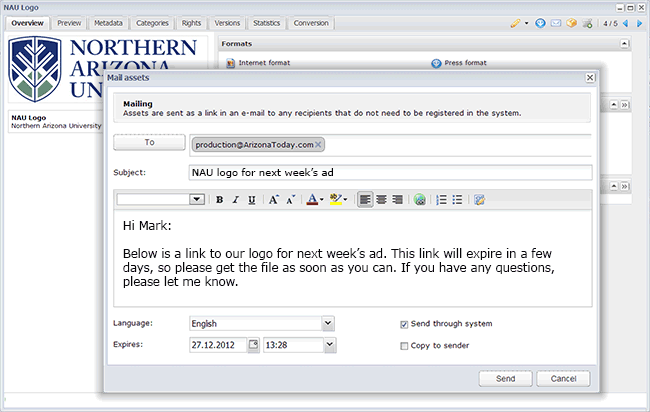 Why Picturepark Fit Best
Norton considered 15 DAM systems before choosing Picturepark.
"We chose Picturepark because it fit best on so many levels," he said. "It was easy to use and it had all the features we needed. It integrated nicely with InDesign and Microsoft Office, it was within budget, and the pre-sales support we got from the company was awesome."
According to Norton, the other DAMs on his list lacked the standard functionality Picturepark offered. If a missing feature could be added through an add-on or customization, the extra costs put the system well outside his budget.
"Some DAM vendors claim their software can do anything. What they don't tell you is that 'anything' means you'll need a software development team of your own. With Picturepark, everything we needed was built in."

Heath Norton, Marketing Coordinator
For the Love of IT
Before making his final choice, Norton approached the university's IT department for its advice and blessing.
"Our IT department is very particular about what they allow on our network," he said. "They instantly rejected DAMs that were based on proprietary databases because we've been burnt by that before. They also said no to desktop-installed software because that would be too much to manage across 30 remote campuses."
Picturepark's built-in support for failover, load balancing and computer clustering we're appreciated by NAU IT. But the Picturepark SQL Server backend sealed the deal for them.
"Picturepark was not only the best fit for our users and our budget, it turned out to be the best fit for IT too. The bottom line is that Picturepark is awesome. It's never given us any trouble and it's always performed phenomenally well."

Heath Norton, Marketing Coordinator
Making the Case for Digital Asset Management
It was clear to Northern Arizona University's Heath Norton that his employer needed a DAM. Files were getting lost, time was being wasted, and the problem was worsening.
"Burning DVDs and hiring couriers to deliver files was a bad idea that everyone could agree on," he said. "Our first effort to fix things was by using a Web server. But that forced us to send these huge URLs that would get broken in email, plus it was cumbersome moving files up to the server."
Making matters worse was that Web URLs were not protected, leaving the files open to Google indexing and uncontrolled access and misuse.
"Serving as the central point of contact for the university's branding assets, I see a lot of…let's say 'odd' ideas for how our logos and other files could be used. I can password-protect Picturepark links and set them to expire, so I don't need to worry about the wrong people gaining access."
The file server approach to DAM also didn't help the university track, manage or find its digital assets. Research that was costly to produce would be lost long before it could be fully leveraged, and the original photos from expensive file shoots—each costing upwards of $15,000—would go missing too.
"The problem with using a file server as a central file repository is that everyone has their own file naming conventions, and their own ideas about where things should be stored. Plus, there are no previews, so you have to download something before you can even see what it is."
A Push for SharePoint
Eventually, Norton was able to convince others that their file server wasn't going to work and a new solution was needed. And while Norton was convinced DAM was the answer, SharePoint was on the minds of others.
"SharePoint was in use elsewhere at NAU, so there was a faction that thought we should be using it for this purpose too," he said. "The problem was that we're a Mac-based shop and no one could get SharePoint to work reliably with our Macs. The permissions on files we'd send were all messed up, which meant we'd have to re-send them. And because the problem seemed random, we never knew if 'next time' it was going to work or not."
Cloud vs. Installed Onsite (On-premise)
When it came to whether Norton would install his DAM onsite or in the Cloud, the decision was easy.
"It was really a matter of budget. We had enough money at the time to pay for the onsite license, but I wasn't sure we'd have the indefinite funds required to fund a Cloud-based DAM."

Heath Norton, Marketing Coordinator

Norton also said he didn't want to have to be choosy about which files were added to the DAM, knowing that Cloud-based DAMs are priced, in part, on storage used.
These concerns eliminated all Cloud-only DAM vendors from his evaluation. And though Norton planned to run Picturepark onsite, he liked that Picturepark could be moved into the Cloud at some point later, even if just as a hybrid distribution option for his on-premise deployment.
"Picturepark was definitely the only DAM I looked at that could be run either way. I don't see us moving into the Cloud any time soon, but you never know."
________________________________________
Listen to Heath Norton speak about the merits of onsite DAM deployment in the webinar, "DAM Shootout: Cloud (SaaS) vs. Onsite."