Offering sports marketing services in 13 countries, Infront Sports & Media's 600+ employees deliver 4,000 event days and more than 30,000 broadcast hours' worth of content each year. Infront works with more than 160 rights holders and relies on Picturepark digital asset management software to manage an impressive library of business assets.
The Challenge
The Infront Sports & Media digital asset collection grows in size and value at the close of each sporting event. New photos and video, new access requests, and new uses for the content resulted in a growing archive that was posing as many challenges as it was opportunities.
"What we really needed was the Sports industry to take a long holiday so we could catch up. But that wasn't about to happen," joked Infront Digital Media and Corporate Communications manager, Stéphane Kaeser.
The Solution
Picturepark enables Infront to collect content, manage license restrictions, monitor use and distribute content to permitted users, worldwide and on demand.
It all started with an email from one of Infront's own partners.
"We had already begun our search for a DAM when my director forwarded me a file-share link that was sent to him by one of our partners," Kaeser recalled. "It linked to Picturepark and we were impressed with the way it worked."
At that time, Infront's DAM shortlist included three other solutions. After some investigation, Picturepark was added to that list.
Infront liked that Picturepark had customers, like the Swiss Olympic Association, that were in the Sports industry; but other factors swayed their decision too.
"We liked very much how easy Picturepark was to use and it was a bonus to us that we could buy the software direct from the company who made it."
Kaeser also described a "human factor" that played into Infront's decision.
"We had a good feeling about the Picturepark team and we felt like we could get along. This was important because a DAM software purchase means the start of an ongoing relationship with the vendor."
Bridging Sports Eras
The Infront Sports & Media archive goes back many years. When onboarding Picturepark, a decision had to be made with regard to the prioritization of content uploading.
"Our archive dates back to 2001," Kaeser explained. "We knew it would take time to get it all into Picturepark. So we had to do some planning."
The company focused its most valuable resources—its employees—on adding current year events. Freelance resources were hired to migrate the archives, which, as of this writing, extend back to 2006.
"We created a template and naming conventions document so that freelancers could upload and tag files. We also had Picturepark pull in the IPTC data we had in the images, so we had a baseline of usable metadata right from the start."
Infront's "start out small" approach to DAM was more than a necessity, though; it was a strategy.
"If we had waited until absolutely everything was in the DAM, we'd still be waiting today. By starting out small, and building up Picturepark in phases, we were able to learn as we went, and introduce departments to Picturepark over time. This was good because it saved us from having to manage 600+ new Picturepark users all at once."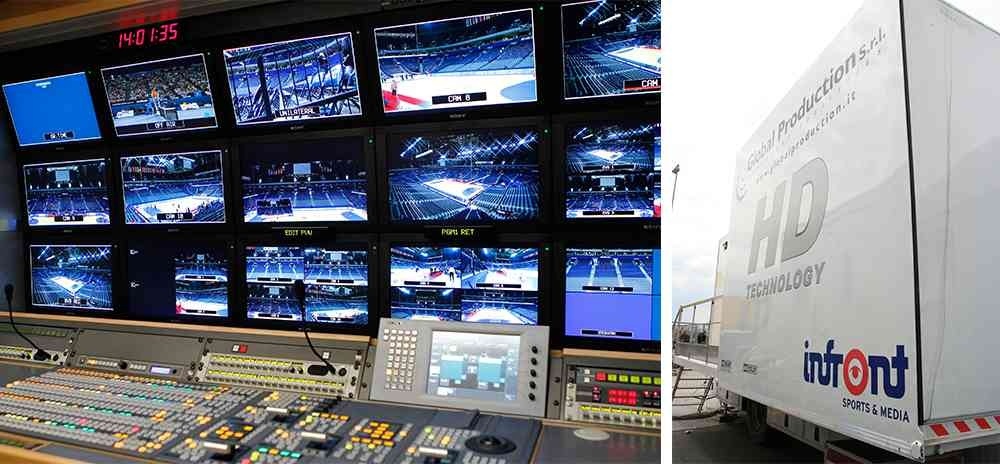 Inside the Infront "Outside Broadcast" van is a complete mobile video production facility that's used to record, edit and broadcast events on location.
Connecting Regions
Infront launched Picturepark with only a few users.
"Buy-in is key to the success of a DAM," Kaeser said. "We launched with only a few key users so that we could test and perfect the system before releasing it to others."
The test team included representatives from different departments, so that several use cases could be considered.
"Our first general release was to our headquarters in Switzerland. We communicated the release via email and backed it up with training workshops. Once we were sure this model worked, we took it globally."
Infront's Finance and Legal departments came first. Then HR and Sport Services and, finally, Marketing and Sales. This roll-out order was intentional because Kaeser wanted to be absolutely certain the system was in good form before its power users came aboard.
Also intentional was a per-department release and training schedule.
"Each department has a different need for Picturepark. By staggering roll-outs by department, we could adjust the training to suit each department's use case."
The Infront Picturepark archive isn't limited to sports action shots. Many aspects of each event are chronicled, like sponsors, food and architecture.
Once Infront headquarters was on board, it was time to include the company's global subsidiaries. Kaeser conducted in-person training for nearby subsidiaries, like Austria, Finland and Italy. When language or distance was a concern, such as when training the company's Chinese subsidiary, Kaeser would "train the trainer" using remote sessions, so that person could then educate his or her coworkers in their native language.
As of this writing, more than half of Infront's 600+ employees have Picturepark accounts.
"It's not difficult for us to train new employees on how to use Picturepark," Kaeser said. "The system is very intuitive and easy to use, so I give them a three-slide presentation and that's all it takes."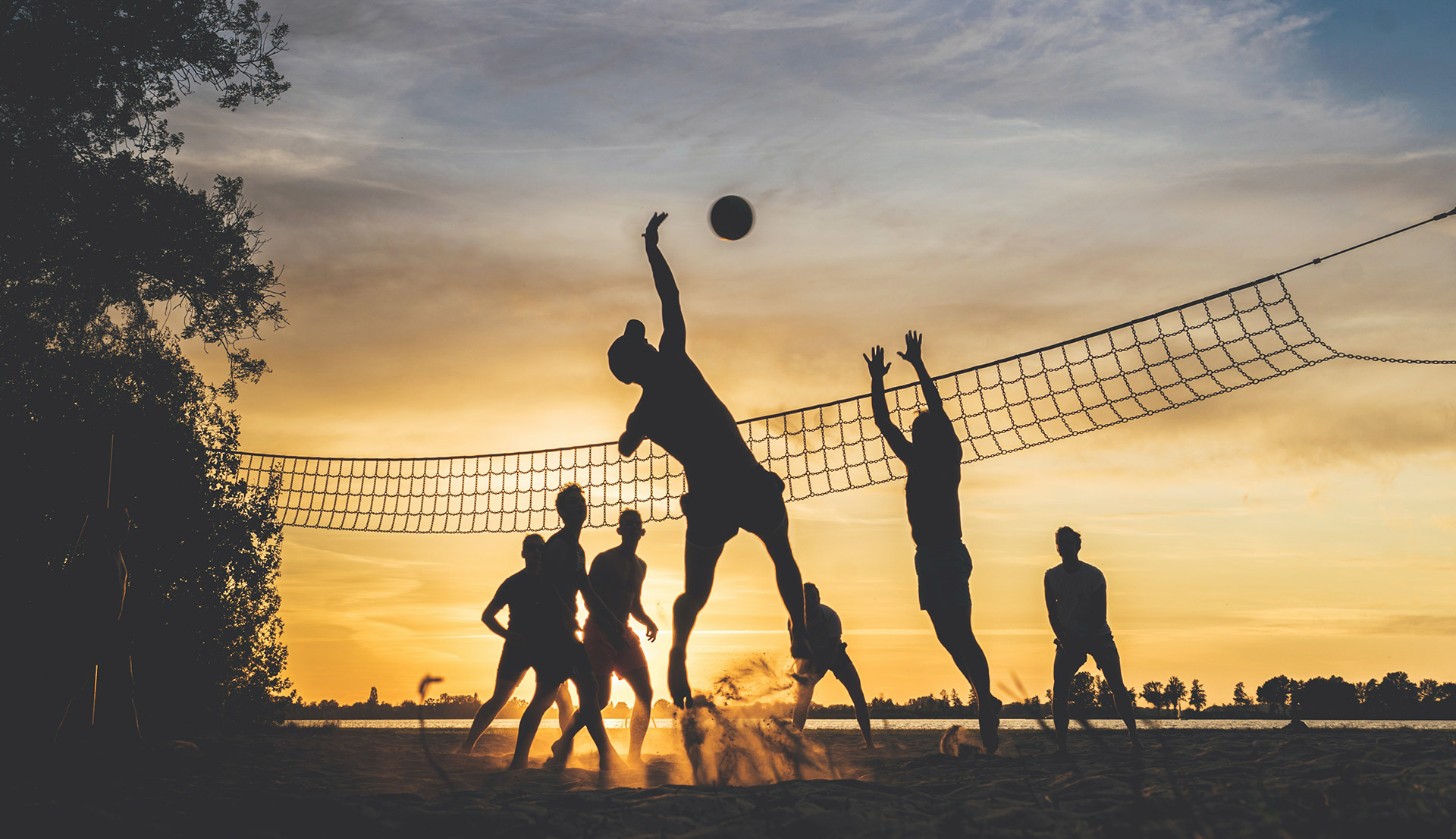 There is no "quiet" season for Infront. Sport is a year-round industry, so Picturepark must be available 24/7, from anywhere on Earth.
Controlled Upload and Distribution
Uploading into Picturepark is an option for only certain users. This makes the intake process easier, and it also helps ensure the metadata is complete and consistent, and that the diverse and often complicated licensing requirements for the content are properly managed.
"We use the concept of an ambassador in each office who serves as the uploader. We have a core team of three in our Swiss office who add tags, manage approvals and license requirements, and then release the content globally."
The Infront Picturepark is also accessible to freelancers, agencies and others via ftp-based uploads.
"This enables us to accept content from people who don't have Picturepark accounts. All of our freelancers and agencies know how to use ftp, so this requires no training."
Content uploaded via ftp is subject to the same tagging and review process used for internal content, so everything remains sequestered until it is approved.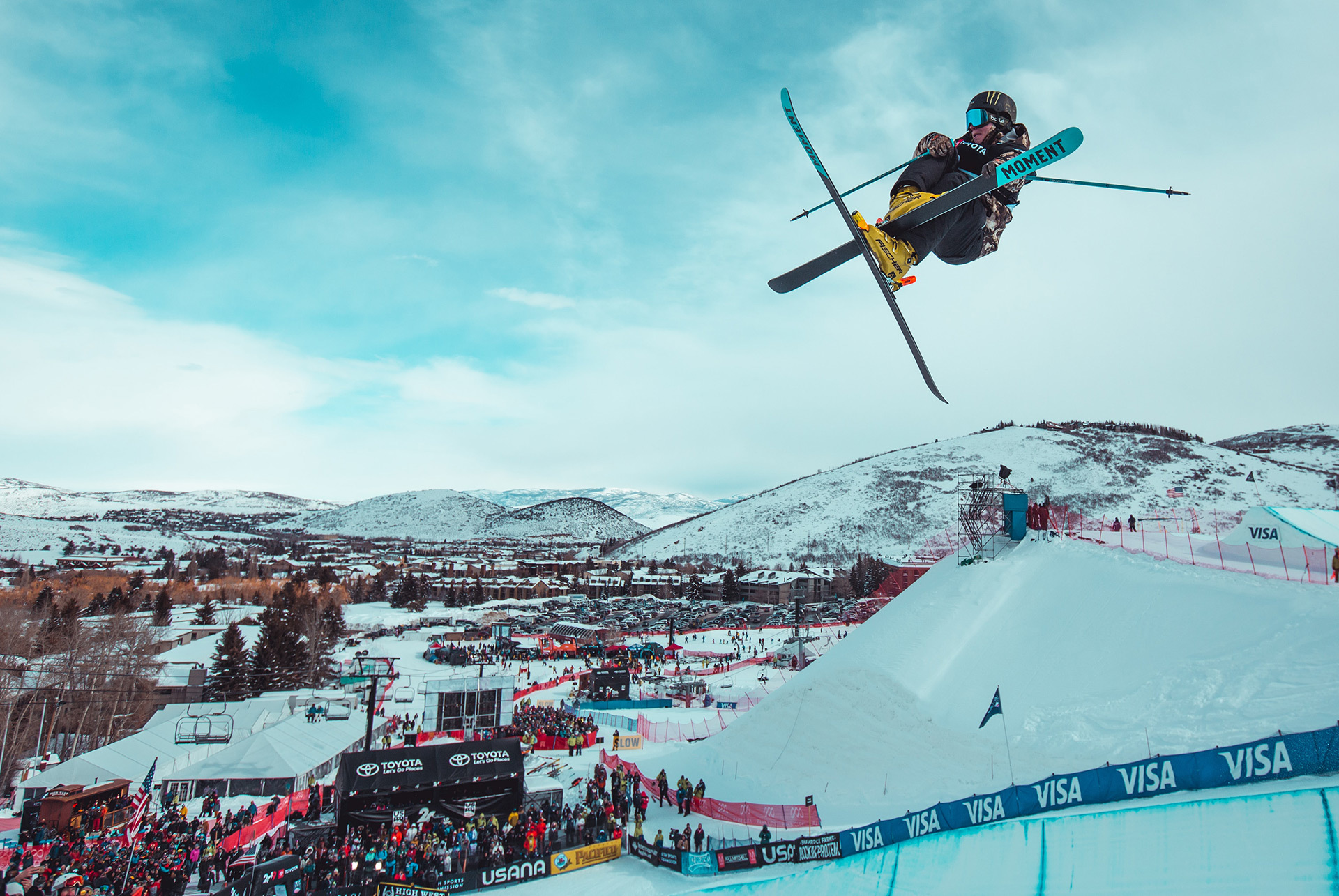 Branding plays a big part in sports marketing. Infront customers include rights owners, advertisers and sponsors, in addition to media broadcasters.
Linked Business Systems
Infront has connected its Picturepark system to its Umbraco website, its 2imagine Web-to-print (W2P) system, and to Microsoft PowerPoint.
No standard Umbraco connector is currently available for Picturepark, but Infront's agency, Dog (Glasgow), was able to lever the simplicity of the Picturepark Asset Connector Framework to build the integration Infront required.
The integration enables Infront website editors to find and place assets that are cropped to perfectly fit website templates. Rights management ensures that only approved and appropriate assets are ever placed on the website.
"We can crop and resize images right from within Picturepark," Kaeser explained. "This is a killer feature for me because we no longer have to first download images to edit them in Photoshop. Some of our website editors don't even have Photoshop, so this not only saves us time, it saves us money too."
Dog's integration enables Infront to keep Umbraco and Picturepark in sync, with regard to which content has been used.
"With one click I'm able to check if an image that was previously placed into Umbraco is still used on the website. If not, it's removed from Umbraco," Kaeser explained.
Inside Picturepark are metadata fields that display the URL at which an asset can be seen on the website, and the date on which the asset was placed. Combined with Picturepark search options, this offers website editors more control than would be available otherwise.
"We can search to see what has been used on the website, and how long it's been there. That, plus being able to resize images in Picturepark using templates instead of Photoshop, is really a great combination."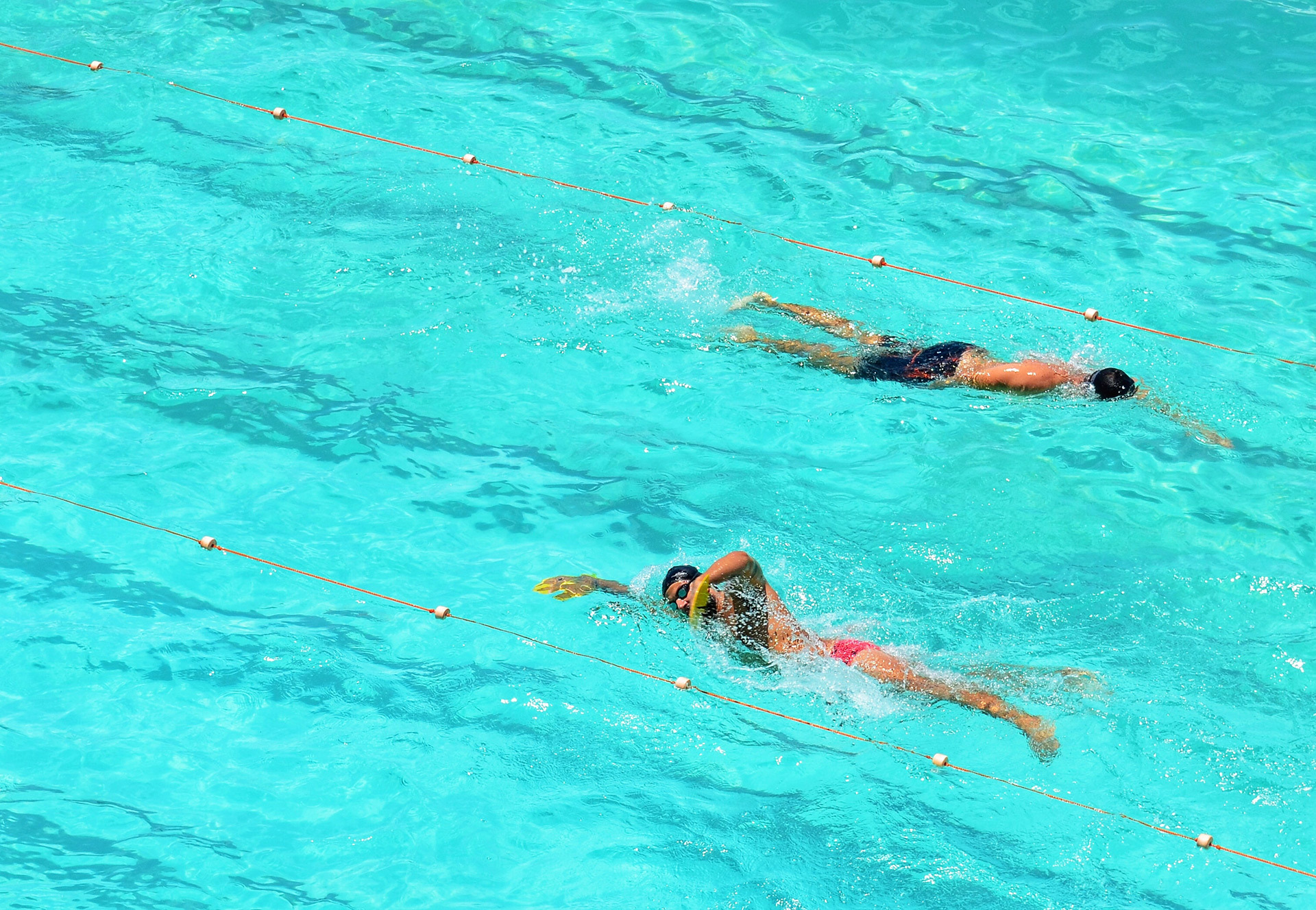 Whether events are near Infront headquarters, like Switzerland's Ironman, or on the other side of the globe, Infront customers expect the same expediency with regard to post-event asset access.
2imagine of Belgium was likewise able to connect Picturepark to its W2P system, without undue complexity or development effort.
"The Picturepark DAM connector for 2imagine took only two days to develop—and this is for a flexible integration that can be configured by each customer," explained 2imagine owner, Jos Claes. "The Picturepark API is very well documented, so even though our developers had no previous experience with Picturepark, the integration development went very smoothly."
From within the 2imagine online editor, Infront users can search for assets in Picturepark and place them into Web-based InDesign documents via drag and drop. 2imagine templates are linked to specific Picturepark collections, so Infront editors see only those assets that make sense for each purpose. Picturepark permissions ensure that only approved images are used.
But the integration most widely used by Infront employees, according to Kaeser, is the Picturepark Office Connector, which enables PowerPoint creators to find and place into presentations Picturepark-managed assets.
"This is a much loved tool here," Kaeser said. "Just like we do with our website, it's nice to be able to resize in Picturepark and then place images into PowerPoint without having to worry about size or format."
Approximately 60 Infront employees currently make use of the Picturepark Office Connector.
Goals and Plans
The Infront intranet is scheduled for Picturepark integration. Kaeser is also evaluating use patterns of the system so that he can design an adaptive metadata schema that will make the system even easier to use.
"Before Picturepark, there was no way to see all the digital assets we had across the organization—it was all too segmented. Now, we have centralized control and management that works better for all stakeholders."