Simplified Product Management: Use Only One Smart Tag
By Ramon Forster • May 12, 2020
Files Can Make Product Management Worse
Product management (PIM) is a complex discipline. You have to: develop new products that meet a target group's needs, market them at an acceptable price, source the supply, brand the products, organise a launch, arrange service, ship then potentially maintain products with their derived variants over an entire product life cycle, and much more.
As if this wasn't enough, you also have to manage and maintain a myriad of product information and files associated with the product for marketing and sales purposes:
Images of the product shot from all angles, from far and close up.
Promotional shots that best target a particular market or demographic.
Videos for telling a small story, or animated gifs that simply add motion to a page.
Documents that provide all the specific product information.
Packaging docs, labels and product manuals in multiple languages and compliance versions.
Posters for show windows or POS advertisements.
Product briefing presentations, battle cards and other sales materials.
… and again, many more too.
Getting it Done with Just a Single Tag
The constant risk that you run is to have your files incorrectly associated or even not associated with a product at all - which can turn into a PIM nightmare, when bad information is published via all your channels or when users don't reliably find what they ought to within seconds.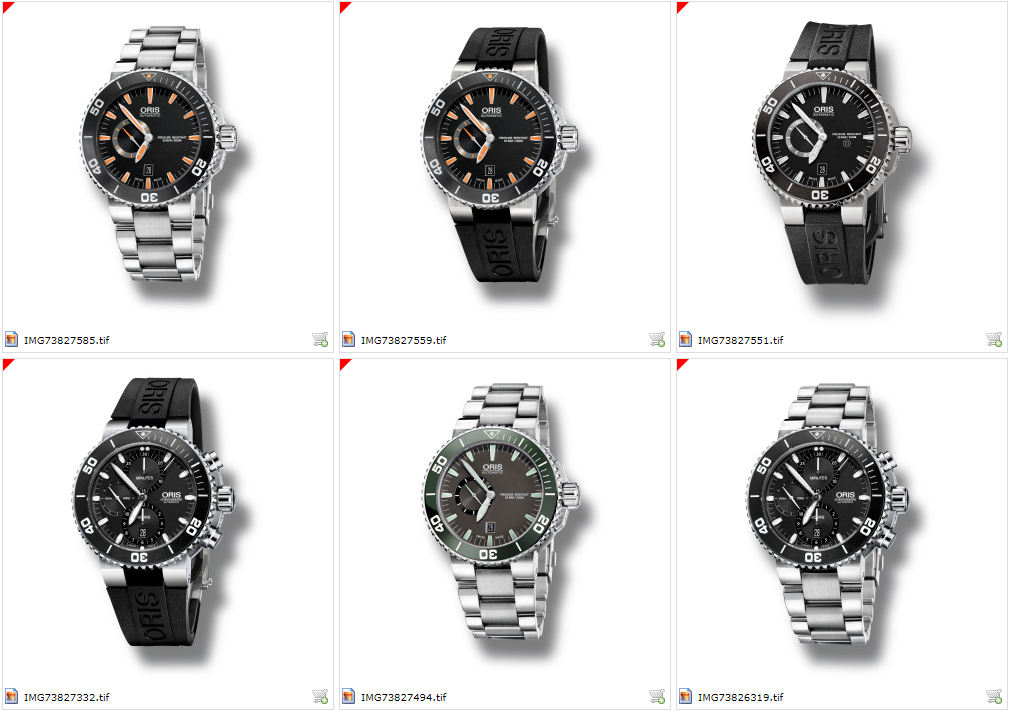 Camera or CGI filenames straight from the devices are mostly useless for identifying product variations.
And your biggest constraint for preventing such negative outcomes: finding the time for getting it done right. Luckily, with a modern content system that provides semantic relationships and multi-dimensional metadata tagging: just a single 'smart' tag can do the job.
Best of all: you get an instant benefit with relatively low up-front investments - regardless of whether you are managing content in highly automated way, completely manually, or with a hybrid approach.
Get an instant benefit with relatively low up-front investments - regardless of whether you are managing content in highly automated way, completely manually, or with a hybrid approach.

Starting Out: Your List of Products
All you need to do as a pre-requirement is to bring your list of products into the content system. This list should include product names, codes and any other product attributes which you deem important, as I will explain below..
Ideally, you access product lists from your Product Information Management (PIM) system and transfer them into your content system via an API. But if that is not possible, a manual periodic export from your PIM and a subsequent import into your Content Platform might work too, if you change products less often.
And in case you don't use a PIM and your product structure and changes are not too complex, then you can use the Content Platform for mastering such product information directly.

And in case you don't use a PIM and your product structure and changes are not too complex, then you can use the Content Platform for mastering such product information directly.
Fully Automated Content Management
In an ideal world, you already have standardized naming conventions in place. This enables you to truly seize the benefits of automation when associating your content with the corresponding product information from that product list.
Based on unique identifiers, such as SKU or EAN numbers, an automated business rule matches such references from the file name with your product list, and instantly tags the file with the corresponding product. This works for single product and can easily be scaled up to thousands of products, which you can import all at once. The associations are also made instantly, without need for further manual control.
Manual Metadata Tagging Expedited

In the case that you don't already have naming conventions applied, then you will have to manually tag your content with the product item from your product list. If you import your file content in batches per product, (e.g. because it resides in a local folder) then you can easily manually batch edit all content items at once.
If that folder structure is missing then, unfortunately, there is no way to avoid doing it all manually for single pieces of content. But that might be okay too because in content systems such as the Content Platform, you can select the content items related to one product and then tag all simultaneously with the product name in one straightforward step.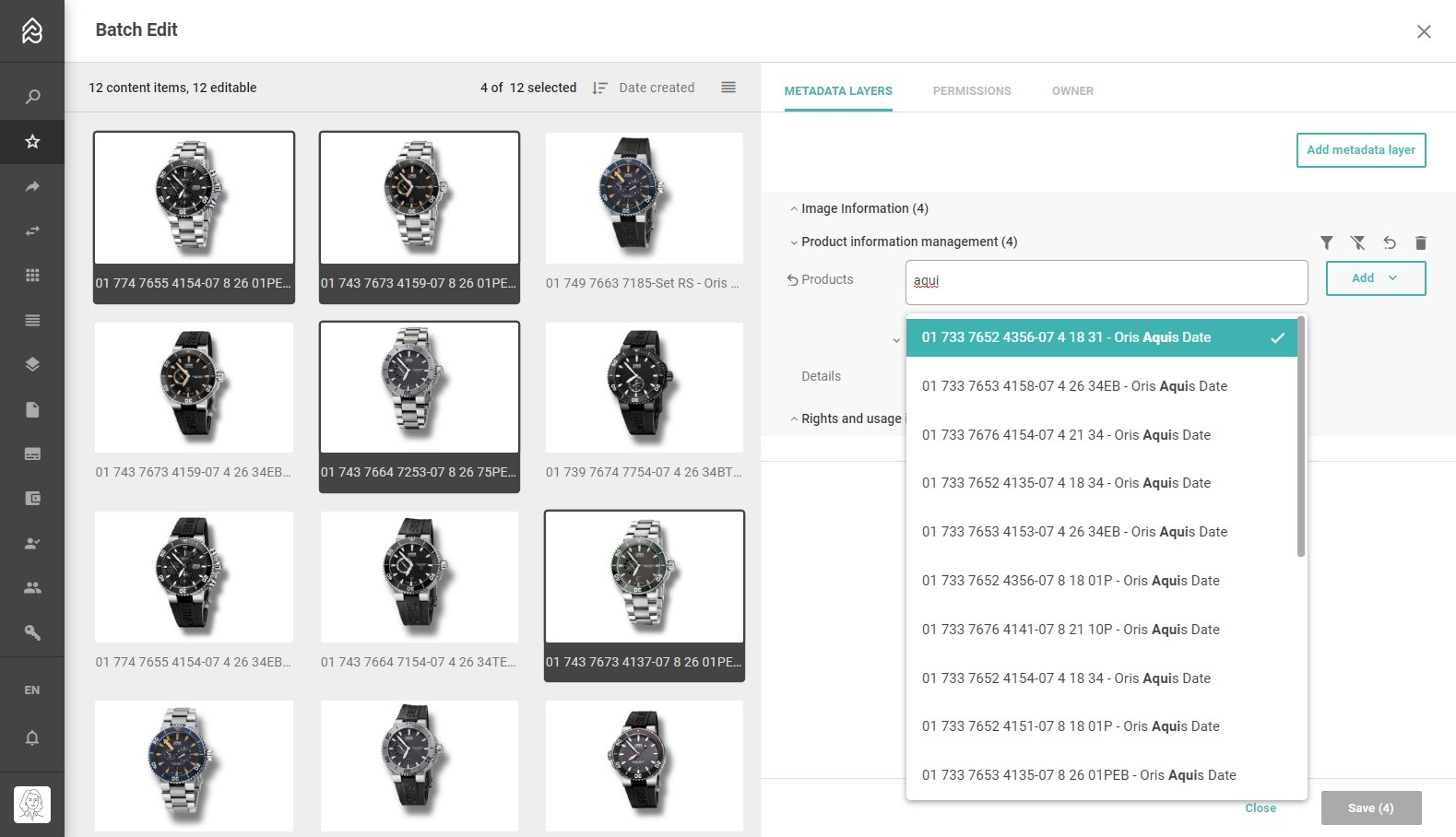 Hopes are high that Artificial Intelligence (AI) will support you in product identification. Actually, you can already train custom AI models on your products but some accuracy is lacking and training of the models is an effort too, so you need to control a significant amount manually.
Get the Right Context (For Free)
At this stage, you have your product content tagged with items from the product list, and because in modern content systems such tags aren't just a string of text, we get context too - for free. Here is how it works:
The product list items that you store in the Content Platform are 'multidimensional' and support 'semantic relationships'. This means that every time you tag content with just a single tag, you also relate additional product information with that content. This means when tagging an image or other content with the product SKU or model name, you're doing so much more than just that; you are connecting the content with much more relevant information, such as:
Brands, product lines or product categories.
Product attributes, specifications, descriptions and other information.
Applications, industries and verticals.
Components or important parts used.
Product substitutes, or related similar products.
Literature and additional content.
And more.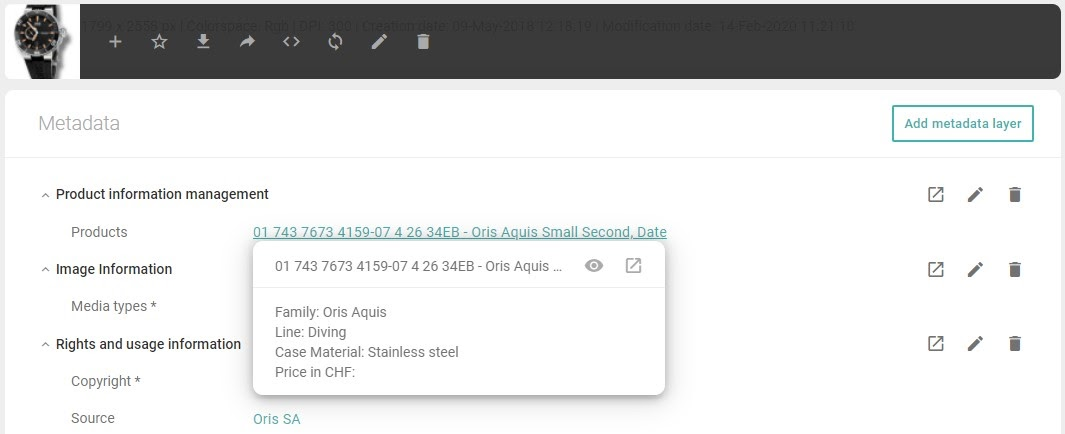 Optionally, and if your system supports adaptive metadata, you can also classify the content with just the pieces of information needed. This can be technical or administrative metadata such as the media type classification (front shot, application shot, explainer video etc.), licensing and usage information, author/photographer names etc. And all this information can be related to lists of its own, have their own attributes, and more.
Find Content the Way you Want
Using smart tags, as described, benefits the search strategies of different types of users of your content system, such as:
Marketing managers that need product videos for branding purposes.
Sales managers looking for product literature associated with a specific product.
Communication managers that need to illustrate a business line in the annual report.
Product managers that want to see all content of a certain type for product substitutes.
Regular users that just need application shots for a presentation.
Press users that research more information about the product via your media center.
Downstream systems that populate the eCommerce shop.
Besides improving full-text searches overall, the search experience can be much more accommodated to the different types of users, by providing them with shop-alike structured access. Certain content systems such as the Content Platform also enable you to access different views, which each have different filters and settings optimized for these types of users.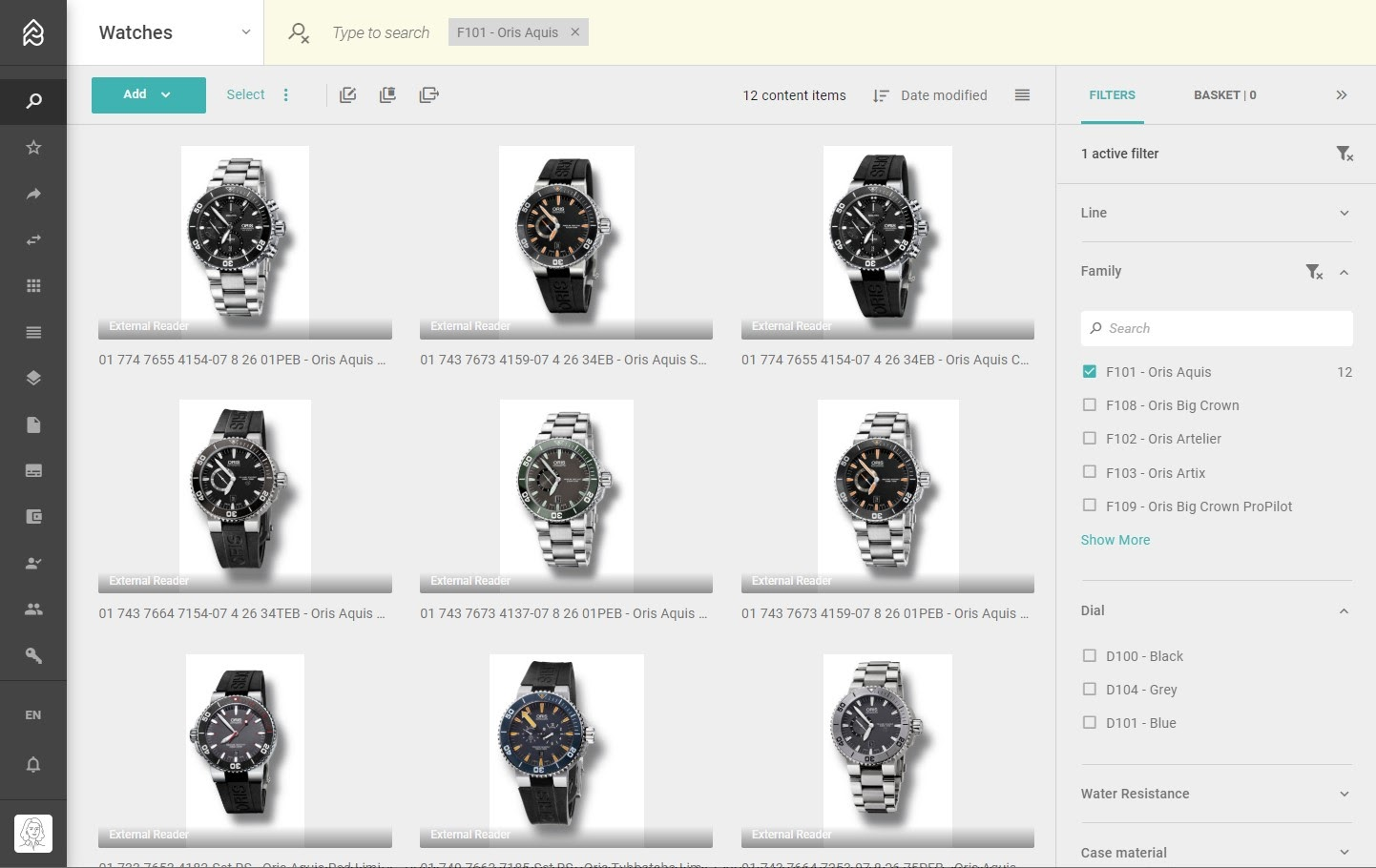 Easily Manage Changes While Maintaining Control
For the content or product manager, not only does importing and tagging content with a single smart tag become much more efficient and beneficial: it also makes managing change simpler.
If for instance, some of the product data was erroneous or existing product attributes need extending because e.g. the product has passed certification to meet industry standards, then such data can be updated centrally for that single product item in the product list, or any associated list which contains and describes all certifications.
Once done, the changes are instantly propagated down to all associated content items - thanks to semantic relationships. And of course, such updates could also be done in bulk via an Excel spreadsheet, or via API in a more integrated and automated environment with a PIM or ERP system.
A Small Step Yields Big Results
This blog has illustrated how powerful and time-saving adding a single smart tag to your product content can be, just by using a product list and a content system that supports multi-dimensional tags and semantic relationships.
Of course, such product list needs exist and ideally, one can automate workflows based on naming conventions and system integrations. But even standalone and when tagging manually, the benefits are huge compared to the classical way of tagging, where you are forced to add product attributes into metadata text fields, free-text or from a controlled vocabulary - something that is time-consuming, unstructured and are prone to error, if not in the beginning, then when managing the change - which happens all too often for products.
Now it's all about getting started on saving time, for doing better and bigger things.