By Olivia Schütt • Sep 09, 2019
Countless websites, experts and lecturers talk about the importance of content marketing. The brand is strengthened, the customers are better informed, the products are presented more vividly, in short, the customers love the product and the sales department can no longer deal with the inquiries.
It is so simple.
Less simple is the design of appealing content and related visuals. Interesting content requires informative content and convincing imagery, because the picture as an eye catcher influences whether the reader continues to read.
Content suppliers such as Flickr, Shutterstock, Getty Images and many others offer appealing images, convincing graphics and exciting layout templates. Even design agencies use such material as the basis for further adjustments. Few reinvent the wheel, not for lack of creativity, but for cost and time reasons.
Anything but Efficient
With those content providers another problem follows: Unfortunately I have to spend my valuable time on the administration of the different "Content Silos" of all these providers:
I open the page
I am looking for a picture
I open another page
I find the same picture
I have to compare the images and share my screen
I find the right picture
I can't use it
I can't find my login information
I don't know if we already bought the picture
…….
So I quickly lose focus on good image material and take care of logins and licenses for all these content providers instead. In the worst case I lose my patience and choose content out of sheer necessity that doesn't fit as well but is easier to access.
Content hub for images and licenses
There is now a solution for this: Smint.io, an Enterprise Content Buying platform. Smint.io was founded in 2018 by Reinhard Holzner. The platform offers a uniform search over the content of all providers with the possibility of direct procurement. Switching between countless providers and a time-consuming comparison of licenses is no longer necessary. The information is displayed clearly and centrally to the user.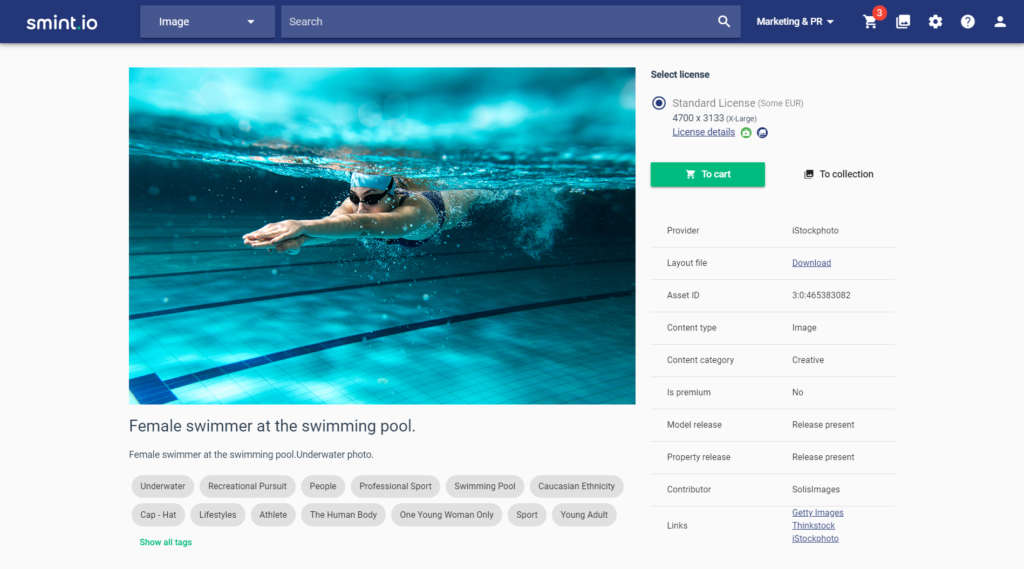 The search for content is intuitive and uses all the metadata of the provider and thus the whole search experience of these content platforms. The user sees a simple search field, the search is carried out using keywords, technical data and context information. This makes it very easy to use the system, and the goal is achieved very quickly.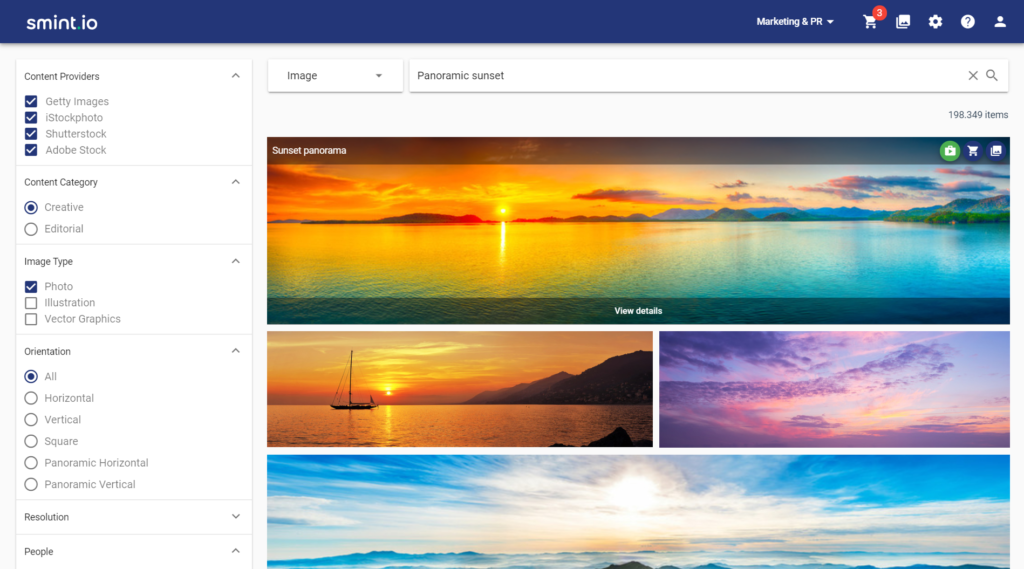 One single access to all content providers
Instead of countless individual accounts in countless content silos, there is access to one platform, where employees find all content from the different providers – currently Getty Images, iStock, Shutterstock and Adobe Stock. I also get additional information about previous purchases when accessing the content.
The advantages are easily listed:
Search once, find across the board
Greater choice with every query
Avoid license violations
Compare different licenses
Transparent billing
Using my time effectively
Be more independent of individual "content sources"
Directly integrated into Picturepark
The Picturepark integration to Smint.io transfers the correctly licensed content including license information, keywording and description to Picturepark, where it is centrally managed and thanks to intelligent rights management can also be made available to other departments in the company as required. From there, the content can be distributed and used according to the license conditions – in microsites, landing pages or press kits.
How does a Picturepark user work with this?
I work in the Picturepark Content Platform, where all images and texts – all contents from my company – are managed.
I look for suitable content for an image campaign and put together my first collection.
However, the content is not yet unique and I would like to add new material to my collection.
I search smint.io for interesting content found on Getty Images, iStock, Shutterstock and Adobe Stock.
I license the desired files in Smint.io, where my licenses are centrally managed, and Smint.io automatically stores the content with all the relevant metadata in Picturepark.
In Picturepark, I add the newly licensed content to my collection, which I share with my team for further discussion, or share directly.
Gone are the days of the tirades of browser tab changes and password entries for numerous different systems. I can concentrate on my task of "creating an image campaign" and am not distracted by page views, credentials and license checks. The time savings and simplicity are quickly reflected in the quality of the material and thus in the success of my marketing.
Exactly: It can be so simple.