By Picturepark Communication Team • Feb 20, 2018
At the start of each content flowpath will be a content source. Your initial flowpath sketches can identify nonspecific sources, like "internal staff" or "agency," but you will eventually want to get more exact with regard to actual content sources, where possible.
Defining content sources with more granularity enables you to:
Budget for actual purchase and configuration costs
Understand and plan for technological limitations and incompatibilities
See where "off the shelf" software will work, and where custom development will be required
A selection of common content source types follows. You might have additional sources.
Applications
The most common sources of content at many organizations are desktop applications, such as Photoshop, PowerPoint, Autocad and other applications that are installed on users' computers. In these cases, users create content and save those creations on their computers, or on remote file servers or file sharing services.
In other cases, cloud-based applications, such as Salesforce, Eloqua or Marketo, can also be used to create content, though these applications are more geared toward working with content created elsewhere. One popular example of cloud-based tools with which content is created is the Google App suite.
The "onramp" from these applications to your larger enterprise content system will be via integrations or preferred (or mandated) storage locations.
Integrations between these tools and a component of your content system enable application users to directly access shared content, or store newly created content in the content system.
Integrations can be convenient, but they can also cause trouble. As applications are updated, there is a chance an integration will cease to function properly. The vendors of host applications do not always announce changes reliably, so the makers of integrations can be caught off guard. This, in turn, can leave users wondering why what worked yesterday no longer works.
When a specific storage location is used as the entry point to the greater system, users must be trained to know where that location is, when to use it, and whether they are required to do anything special with the content they submit, such as adding metadata values or naming the files in a certain way. If users do not know the rules, they can end up contributing incomplete or unsuitable works to the content system.
As a rule, integrations are preferable when there is a value to storing or accessing shared content before the user's document is complete. For example, an InDesign page layout designer benefits from having direct access to shared content for placement into layouts.
User Curation
When you bookmark a website or a YouTube video, you might not think of this as content creation. But if your content system permits you to add metadata to that link to define it and give it context within the scope of your interests, you are creating content.
Some content systems enable users to paste links that are then used as the basis for new content records. In some cases, previews of the content might be provided.
For a given research project, you might have teams that scour the web for links to content that will be useful to your design, marketing or sales teams. Collectively, though you've stored only links, those links become valuable contributions to your greater content system. As with content you create in house, these links might be shared, commented upon, and referenced in other materials.
Just as music fans have grown accustomed to streaming content that they do not possess, it will become increasingly common for organizations to assemble collections of content published elsewhere, yet provides unique value to internal teams, once enhanced with relevant metadata.
Automated Content Creation
As mentioned, automated content creation is on the rise. In most cases, this is not about machines feeling inspired to create illustrations or articles on their own; instead, it is about machines using data to make decisions about pieces of existing content that can be combined and rendered or presented, usually based on a formatting template.
The two images below demonstrate how valuable automated content creation can be. This template for an advertising image can be used to create multiple different ads, just by editing the text in the message block, changing the color of the message block, and swapping out a new logo.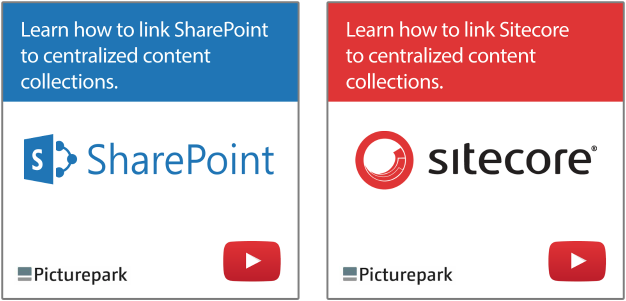 Companies with large product catalogs are familiar with automated creation of product listings and advertising elements. When a new product is released, existing templates can be used, which saves considerable time. In some cases, the new content is created and made available to those who need it, without any human intervention.
If there is no direct API integration between your content system and the application that renders automated content, your best option might be to have your content system periodically check a dedicated folder or server location to pick up new content that is saved there.
Stock Houses (Licensing)
Content licensed from external sources must be handled carefully. In most cases, the licenses under which you acquire content are limited. For example, they might permit use in one region, but not others; or they might permit single use, or online use only.
If the content is used outside the bounds of the license, it can be a costly mistake. The goal is to make clear to all who will have access to the licensed content in what context it may be used, for how long, and which attributions are required.
The best way to make this clear is via metadata directives, and the best time to add those directives is when the content is added to your content system. The goal thereafter is to make sure that no matter where throughout your content system the content travels, those directives remain clear and can be machine read, if needed.
Other considerations unique to licensed content are the license extensions or renewals for content that is not licensed in perpetuity. Most professional content systems offer some means for enabling you to add reminders or checks for expirations; but it is worth inquiring about how that works, if you plan to license content—especially if those licenses will differ from one another.
Freelancers and Agencies
Content that comes from freelancers might also involve license restrictions that should be noted and honored. But more specific to freelancers is whether or not you offer them access to your system.
In some cases, freelancers post the content they create in their own locations and send links to those locations to those who should access the content. But if your freelancers will contribute their works directly into your content system, you will need to make sure they have access and that the content they contribute properly identifies the source and any usage restrictions that might be in place.
Systems that provide "named" accounts, which means each user has her own account, typically show the name of the user who contributed the content to the system. But if your system uses no named or individual user accounts, you will need to make sure there is some mechanism—most likely via the use of metadata—for the contributor to identify himself. Otherwise, you can end up with a lot of new content for which there is no record of ownership or origin.
Upstream Business Systems
An additional source of content might be upstream business systems, such as product information managers (PIM), master data management systems (MDM) or some other system into which users input data intended for use across the organization.
These systems might be connected to your content system via direct API integrations, but data can be also transferred by scripts or other tools that copy data between the systems. In these situations, the source system exports data to a file that the script or tool then transfers to the content system, where it is ingested.
In many cases, these data transfers happen nightly. If there is a need for data to be transferred instantly or depending on complex rules, a more sophisticated solution is required. Though the export/import method can certainly be easy to configure, you might find that it lacks options to account for errors, such as when one system is offline or data is not entirely processed or complete.
Depending on the data and how often it is accessed, it is possible that days, weeks or months of erroneous data could be transferred before anyone notices the problem. As bad a problem as "bad data" is on its own, the problem worsens when other "downstream" systems rely on that data.
For example, say that product data flows from your PIM system into your content system, from where it is incorporated via templates into ads that are made available to media outlets. Let us further say that a product manager erroneously lowers a price from 99.99 to 9.99.
A properly designed integration could flag pricing changes that exceed a given percentage, ensuring the data does not get published before an authorized individual can verify the change is correct. In a simple data transfer, the error would likely remain unnoticed until customers started calling en mass to purchase the great deal.
The export/import option is most common when a business system lacks an application programming interface (API), making direct system connections difficult. This is typical where older systems are used, but when data transfer requirements between two system are very simple, organizations can choose to take the easier route, rather than enduring the cost and complexity of building and maintaining a custom integration.
This excerpt from Picturepark's Routing Digital Content through the Enterprise is part of a multi-part blog series that features sections of the complete document.