By Picturepark Communication Team • Sep 26, 2017
An interview with Picturepark CEO, Ramon Forster
While Picturepark (the company) was designing a major upgrade to Picturepark DAM, the company had an epiphany: The scope of Digital Asset Management was expanding, yet no DAM system was ready to tackle where things were headed—and that included the company's own product.
A major upgrade to Picturepark DAM was halted while the company made some difficult decisions about where to go next. The company's business, technical and managerial teams agreed: it was time for an entirely new product.
The Picturepark Content Platform is the result of those decisions and the development that has taken place since. It has taken years to complete and it has left the company in a sometimes difficult situation with prospects, customers, partners and the industry as a whole.
Was the result worth the effort?
Picturepark CEO, Ramon Forster, tells the story from his perspective.
What was it that convinced you it was time to create something new?
I can't recall a single reason for it; it's rather been a steady stream of discussions and findings that lead to the decision to start over again.
Since the company was incorporated in 2000, we are convinced that content (or information) is only a potential with no value unless it is exchanged – that's why we incorporated as Vision Information Transaction Inc. We even launched a file transfer service called "Transfertool" years before Dropbox existed, which we later sold off in order to focus on DAM.
The Picturepark Content Platform includes a modern interface that works on desktop and mobile devices.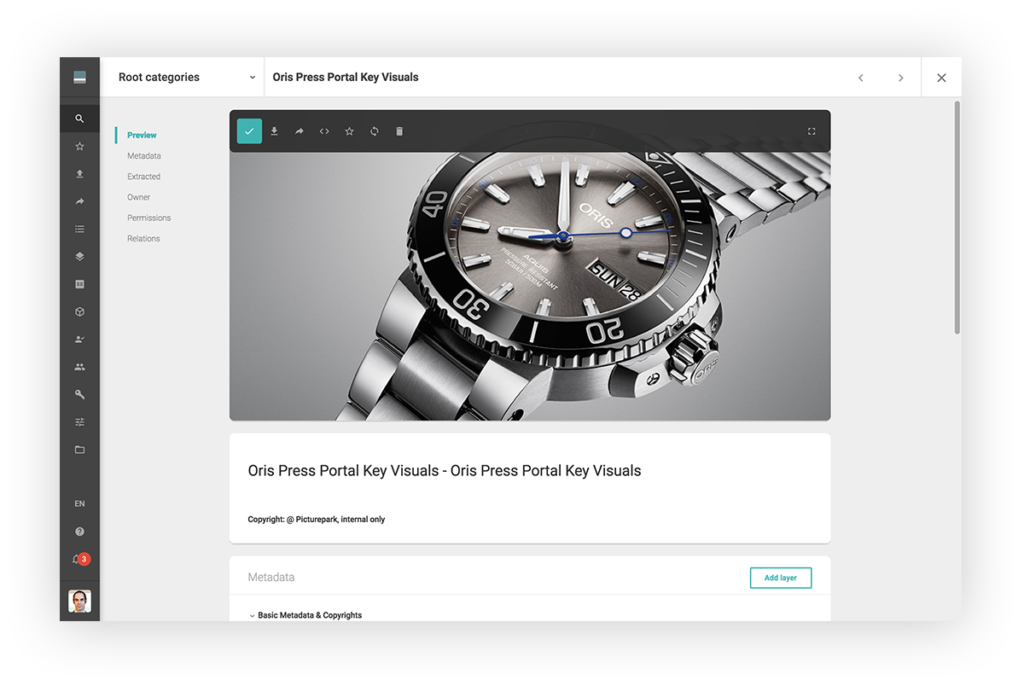 In 2010, we started to more seriously discuss where things were going in Digital Asset Management, and we understood that automation and integration was becoming key given the rapidly growing landscape of systems used, especially in the cloud. So we started to more seriously experiment with API and new technologies, and later released a series of ready-made connectors to other business systems.
This got extended when we really started to understand that it's the content that matters, not the files in which the content is contained. Adaptive Metadata in 2013 was a result of this, and it got a complete new way of thinking started here at Picturepark.
At the same time, we saw that we added features too quickly and at times too short-sighted based on demands of a few customers, analyst opinions or competitors. We understood that we could no longer play this game while developing and delivering according our vision.
So we reserved time to draw the first sketches of a truly content-focused and distributed DAM system that could route content from where it is created to where it is consumed. This is what became the Picturepark Content Platform.
Starting from scratch when you already have an established product is a risk. Why take it?
Essentially, we no longer wanted to compromise in what and how we do things just because of an already established product that is great for DAM but no longer fully in line with the vision for the next decades to come.
For instance, we wanted a highly distributed system architecture and the software being "API first" developed with very powerful integration frameworks so that our teams or 3rd parties could conveniently extend capabilities or integrate. We also wanted to benefit from interesting new technologies throughout the software and not just in certain areas, as we do have it in Picturepark DAM.
You just can't do any of the above in an uncompromised way with an existing product that is successfully on the market since many years but was designed with other paradigms in mind.
Does this new direction suggest that the DAM industry has been wrong all these years?
No. There has been, and there still is, a growing need for management of media files. But I think the DAM industry has yet to understand some fundamental changes it's faced with:
First, while the DAM market is already very competitive with indirect competition from PIM and CMS on the rise, this still misses the cloud file sharing tools such as Dropbox, Google Drive, Adobe Cloud and Box. I think they will own DAM over time, be it directly or indirectly. Actually, they already do but we don't recognize it simply because they don't claim to be a DAM and are not categorized as such. I also don't expect collaboration features and metadata to remain competitive edges over the longer term, although to some degree they are for now.
Second, more and more, content is no longer managed in files and in desktop applications but created and mastered directly in cloud applications that store the content proprietarily. You might be able export such content as a file for the sake of data exchange but you will increasingly access these contents solely via API or other connected apps, with no file created or exchanged at all. For managing these kind of contents, DAMs will need to be flexible enough to store fileless content, or refer to where such content is mastered. Ideally, they can do both.
Multidimensional lists work as controlled vocabularies that can each have their own metadata schemas for semantic associations.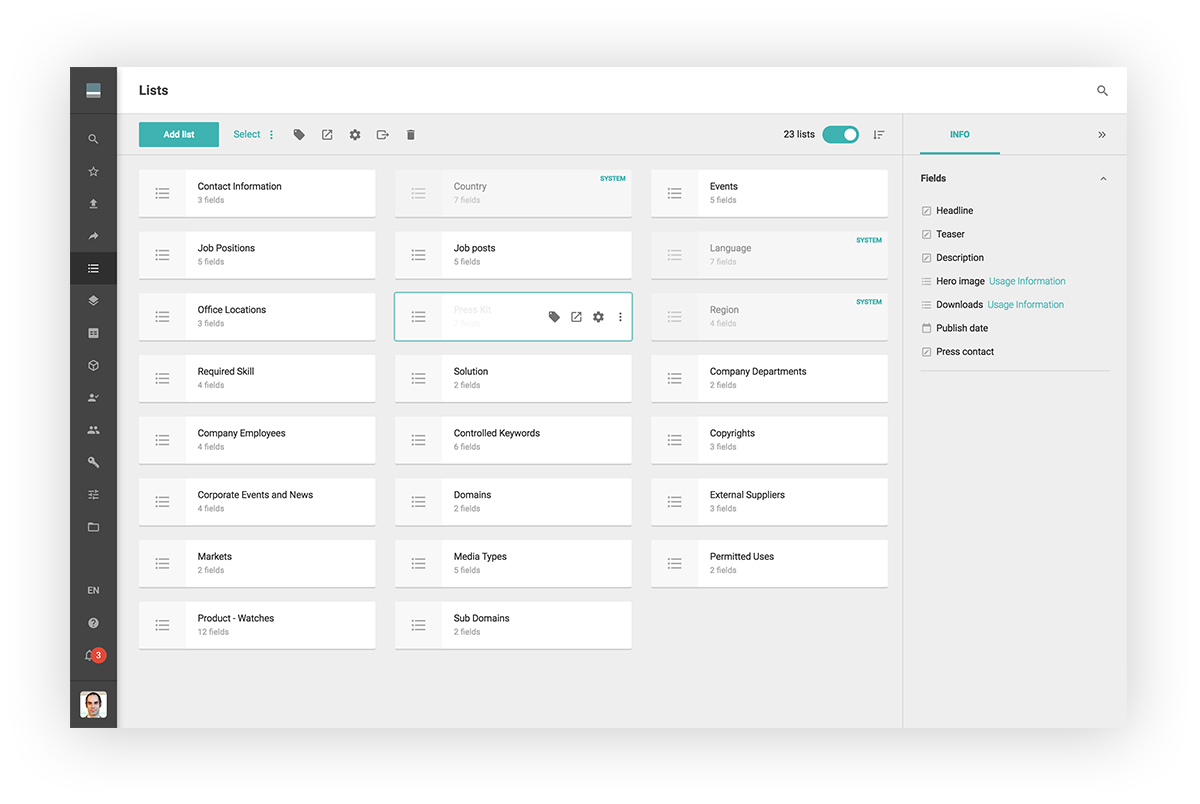 Third, and connected with the latter: Automation and machine-to-machine collaboration will become a key success factor in many industries, including Content Management and DAM. Artificial intelligence (AI), IOT and technologies such as blockchain – these are only early signs of what will be far more disruptive in the future.
It won't help to address all this just a bit on the frontend by adding a nice UI or a wizard, bringing an API to REST, integrating an auto-tagging service, throwing more money into advertising campaigns, or increasing your professional services department, which I see happening in DAM and elsewhere. You have to completely rethink your products and business model.
Are you concerned that customers and the market as a whole won't know where to "fit" Picturepark now?
If you mean Picturepark, the company, then no. Picturepark DAM and the Picturepark Content Platform are different products. So, with regard to the company, we have simply introduced a new product that still falls under the umbrella term of content system, like Picturepark DAM.
If you mean the Content Platform specifically, then yes, this is a concern. But I'm actually much less concerned about customers than the market.
Showing up in certain predefined categories is critical for getting found, especially for smaller companies with limited marketing budgets such as us. If analysts, the media or Google can no longer categorize us then this adversely affects the amount of leads we generate.
Having elements of DAM, PIM and MDM, and categorizing in all these will be tough. So the one category we found most comfortable, just to throw another one to the table, is Headless CMS or Content-as-a-Service, a relatively new category of systems coming from the WCMS space.
Regardless of the categories, once prospects or customers can see on a more practical level what can be done using the Content Platform, they will immediately understand the value of it, and how this can address their requirements even in areas they were not thinking before. As we found out through our research so far, these customers are more willing to give up some of their traditional category expectations in favour of their content management pains getting resolved on a more fundamental level.
As you mention, capabilities of the Picturepark Content Platform stray into MDM and PIM. Isn't this a lot to expect from a single system?
On first sight, yes. But now ask yourself how much of your DAM, PIM and CMS you really need and use every day, and how much of it actually gets in your way. I'm constantly surprised about the level of over-expectation about what systems should be able to do, the under-expectation of what only well-defined policies can solve, and the tendency to over-engineer solution landscapes that could at times be addressed on a subsidiary level much more fundamentally, and sustainably. But I'm aware that patching with another system is often easier than weeding out a root cause.
The Content Platform works as Content Router between business applications and publishing channels.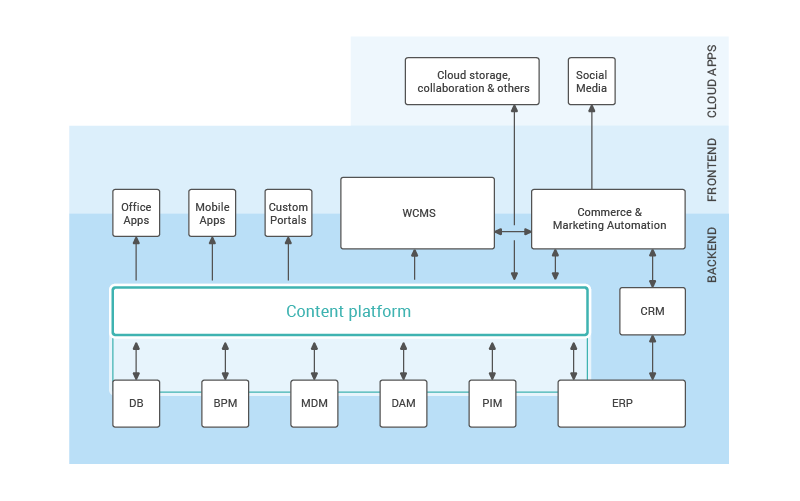 So if you expect a single system to be the most feature-rich DAM, PIM, MDM and CMS solving all your problems then the Content Platform won't deliver your relief – I guess no system really will.
But if you are looking for a flexible platform that on the highest level can manage and route content regardless of it being associated with products, people or campaigns, regardless of content being owned by marketing, sales, HR or product management and regardless of content being file-based or fileless, a platform that ultimately gives you the freedom to use it the way you want, without huge investments, then you might find the Content Platform a very good fit.
Using the Content platform, you can connect multiple systems to work like one but you can also have it act as a standalone content system. Consequently, you don't have to give up on already established systems like a PIM—you can complement them. And you can integrate and build your larger content solutions as needed while at the same time you don't have to always write code for just sharing a few content items with other users.
You still have to plan, agree on an information architecture, make tough decisions and spend a good amount of time—there is no golden button for shortcutting this. But you also don't have to start from scratch because the platform provides you that solid foundation for all your content initiatives.
What does the release of the Content Platform mean for Picturepark DAM?
Picturepark DAM, as a fully featured Digital Asset Management system, has been our flagship product over the last years. It has a strong customer base, and we won't turn our backs on that base. But assuming our vision for what comes next in Content Management comes true, we think the Content Platform will be the preferred option for both current customers and prospects.
We also have a Connector in beta stage that brings content from Picturepark DAM into the Picturepark Content Platform from where it can be routed further so customers might deploy both systems in parallel.
Strictly structured content can be created in the Content Platform and then published to multiple channels, including websites and mobile apps.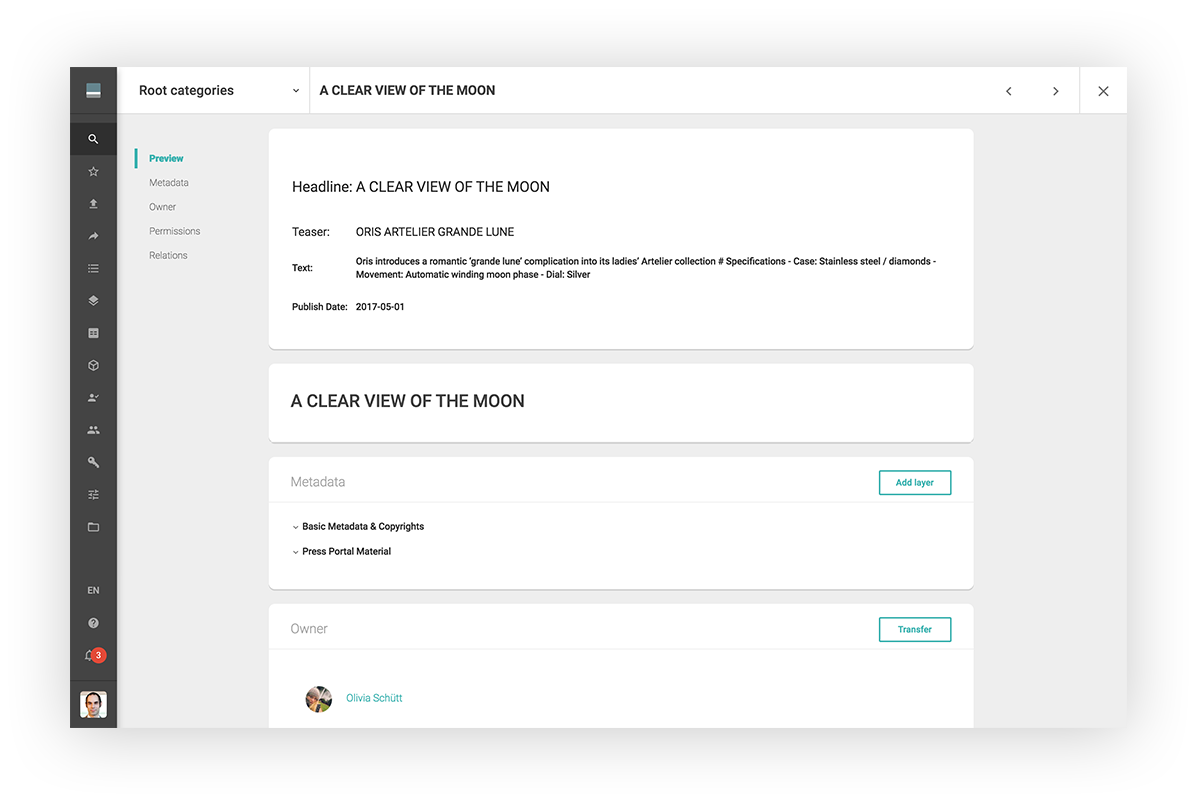 How will this expanding product scope affect the Picturepark Partner Network?
The existing partner network will be delivering Picturepark DAM as they do now. We'll be adding a new partner program that gives existing and new partners better possibilities to contribute their expertise with the Content Platform. A key focus is given on Value Added Resellers (VARs) which will use the underlying platform for building those larger content solutions.
We think the Content Platform can be very enticing for e.g. digital agencies that have to build web applications and mobile apps. Using the Content Platform, they can pretty easily build any portals, be it for offering retail properties online, showcasing reference projects of an architectural firm or offering marketing resources to dealers—all without having to reinvent the wheel.
Is there anything you'd do over differently, if given the chance?
Definitely, and not just a few things! However, those things are not about the vision but more about organization—and I intend to share those in more detail at some point.
We're now almost a year delayed with the Content Platform release. While this is nothing new for software development, I'd of course organize things better and hence shorten our time to market. On the other hand, some mistakes we made have turned into powerful findings that have further sharpened our vision and ultimately improved the Content Platform more significantly than without.
Developing software to do what is exactly known is a lot easier than developing software to do what is not yet fully known. The effective management of content (and
more generally information or data) is a moving target since long and for long. That's why we'll never stand still too.

*** Other interviews in this series: