By Picturepark Communication Team • Jan 19, 2016
The Picturepark DAM Connector for Kaltura enables Kaltura customers to manage the building blocks that comprise the videos they produce, take advantage of Kaltura videos across social media and more.
The Safe Content Source
Digital asset management (DAM) is the art and science behind the production and management of the images, audio clips, charts, logos and other content building blocks that make great videos. Whether produced in house, licensed or commissioned, raw content materials each come from somewhere. And while it's easy enough for a video editor to pick from here or pull from there, it can be costly if the wrong source materials are used.
Using Picturepark, Kaltura customers can manage these source materials, providing the background information required and verifying their suitability for distribution, long before they're ever considered for placement on a video timeline.
Some of the benefits Picturepark DAM offers Kaltura users are:
A palette of content choices – Video editors always have access to a complete collection of suitable source materials, so more creative decisions can be made.
License and restriction directives – Restrictions on the use of content are known, so legal compliance isn't left up to someone's best guess.
Subject details and experts – Productions aren't delayed while producers hunt down someone who can explain the numbers on a chart, or identify someone in a photo.
Approval assurance – The rights management built into Picturepark helps ensure that "if you can see it, you can use it." This helps save producers and editors from the liability of using the wrong source materials.
Contract access – When in doubt, license details, model release forms and other contracts are instantly accessible.
Collectively, these assurances help production teams create better videos in less time, and with reduced exposure to legal or other errors.
Picturepark metadata is uploaded to Kaltura along with the video, so Kaltura users see information about each video that file names alone can't provide. The addition of the Kaltura tag is all that's needed to establish the link between the two systems. (Top image: Picturepark. Bottom image: Kaltura)
A Single Repository for Enterprise-wide Content Sharing
Picturepark becomes an enterprise-wide repository from which video source materials (and completed videos) can be shared and used for other purposes. This is important because so much of what goes into a video can be valuable when used in other capacities, such as presentations, websites, social media and e-stores.
When the entire enterprise shares the same content repository, several benefits emerge:
Status audits are reliable – The entire history of the content is in one place, where everyone can see every approval, note or other value assigned to it.
Multi-system updates aren't needed – When a piece of source content is updated, it doesn't need to be updated in multiple systems. Even better, Picturepark makes it easy for content editors to see when something has already been used in a published video, so better decisions can be made about next steps.
Content access isn't filtered – When those producing videos have access to everything, their creativity isn't limited. Who knows when some random Excel chart might make for the perfect motion background on an unrelated video. Sometimes the best content decisions are not within the context of the subject.
And the benefits aren't limited to just those producing videos. Published Kaltura videos are accessible to users of Picturepark too. This means your website editors and social media managers have access to video that can increase time-on-site and click-through, all from the same platform they use to find and place still images and text.
The Picturepark/Kaltura integration bridges corporate content creation and sharing with video production and distribution.
Adaptive Metadata Means Always-relevant Metadata Schemas
Picturepark is the only digital asset management system that offers metadata schemas that can adapt over time to each piece of content in the system. (Watch the Adaptive Metadata demo video.) In short, this means that each asset contains only the metadata values that are needed to find and manage it. Audio and video assets don't have page count and color space metadata, while PDF and office files don't have metadata values that apply only to time-based media.
Assets sent from Picturepark to the Kaltura platform for rendering and publishing get the metadata fields that make sense, such as share and embed links to the rendered video. This enables website editors to use Picturepark to find and place video, just as they use it to find and place images, PDFs and other static digital assets. As mentioned, this also enables social media managers to take advantage of Kaltura video, without the need for accounts in Kaltura, and without having to ask Kaltura video managers for links.
Even better, because Picturepark's Adaptive Metadata is designed to consider the content of a digital asset, instead of just its file type, you can have any unique metadata fields you need to manage different types of video. For example, event videos might require date and location fields that talking head videos don't need. Videos for products can have product family-specific metadata, so that freelance editors and others unfamiliar with your operations can properly find and match content.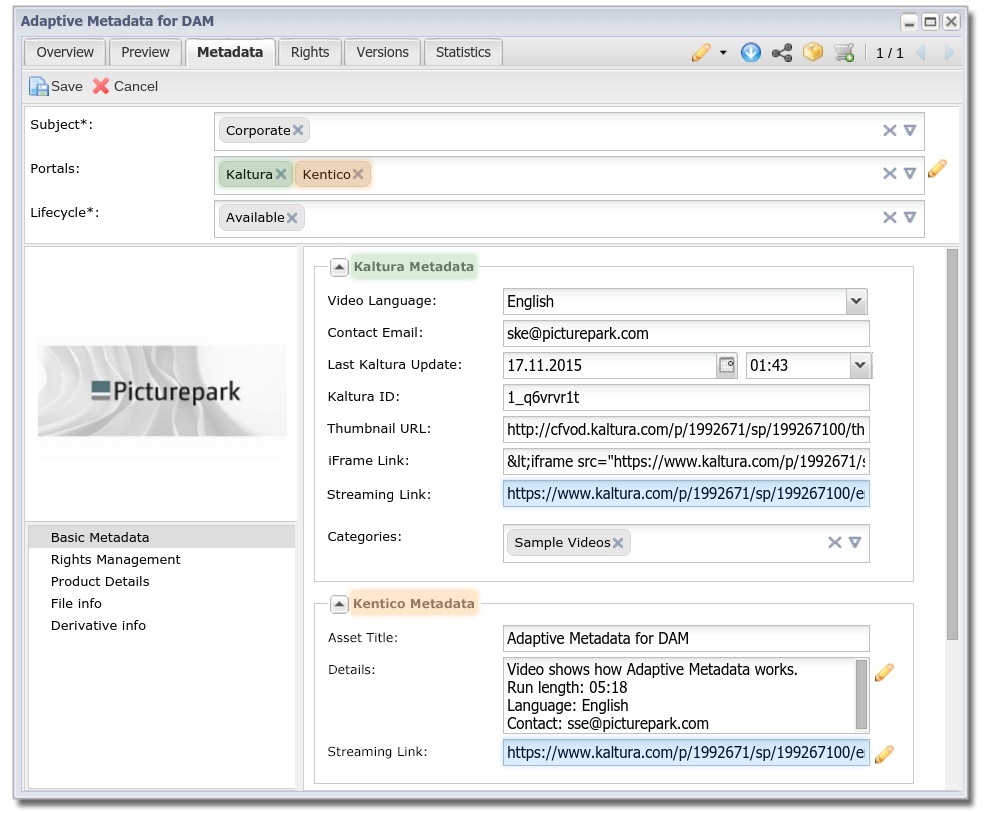 A video streaming URL is copied from the Kaltura Adaptive Metadata class to the Kentico class, which makes the link available to editors using the Kentico Web CMS. The same link could just as easily be pasted into other CMS systems, such as WordPress or Drupal, or you could use it in a product information management (PIM) system, e-commerce shop or other system from where you need to stream video.