By Olivia Schütt • Aug 05, 2019
Good pictures, interesting background music, funny memes, exciting stories – every piece of content already exists and with a simple Google search you have access to an enormous amount of content. But access doesn't mean you are allowed to use the content, in any way that you want. There is always one key thing to keep in mind when it comes to the content of others:
You need permission to use it.
The technology surrounding duplication makes it incredibly easy to clone content – irrespective of permissions and usage rights.
Long ago, in pre-internet world, nobody had the idea to go to the library with a typewriter and copy the the books that way. Or perhaps to be pedantic, we should say that only a few did! In today's digital world, the technology surrounding duplication makes it incredibly easy to clone content – irrespective of permissions and usage rights. For example, an Instagram user posts an image on their profile, taken from Google Image search results, without thinking of what copyright restrictions apply.
They are spurred on to do so because the ever-present 'share' functionality is so prominently displayed. Technically, however, the process involves the copying of an image. Nobody attributes or even thanks the actual author and often they will not know about the occurrence of what may be a potential copyright infringement.
Why do I need a copyright notice?
This is a big problem for professional photographers who make their living selling their own photos. It is cases such as this that have driven the need for a copyright standard to be introduced and/or adapted. The idea being that the copyright and the corresponding copyright notice gives a framework to guide users in how they may or may not use content.
In the aforementioned case of a photographer who makes their living from selling their own work, if you were to mention their name and website link; this may present a welcome opportunity. An attribution allows the photographer to increase their visibility, which could generate follow-up orders. With the use of a professional content platform, attributing the photographer is easy . Provided that the content strategy in place properly manages copyright, then it's a piece of cake.
Those who disregard the copyright notice, using a piece of work outside of fair usage policies, could have to pay high penalties. This is because professional agencies are now automating their copyright infringement notice send out. Meaning that they can chase more and more cases, in less time.
The photographer Marco Verch, for example, used the 2.0 of the Creative Commons license for much of his work. This is a free-usage license yet due to restrictions on licensing, it allows Verch to chase after those that use his images without attributing them to him. Martin Steiger flags this method in his blog "Flickr warnings from Marco Verch: How to react?" This approach by Marco Verch and other content creators makes use of the ambiguities in the application of licensing notices, even turning them into a business model. A content platform can offer more security and guidance here.
What should a copyright notice contain?
To keep a clear overview, it is advisable to manage all these rules in one tool and automate them wherever possible.
In the Picturepark Content Platform, for example, copyright information such as the license and license version can be input. For some licenses, the source must be linked. Where as others only need to named correctly. Other can vary again, requiring the indication of the original title. To keep a clear overview, it is advisable to manage all these rules in one tool and automate them wherever possible.
Here is an example of a copyrighted image in the Picturepark Content Platform. When importing an image, the user needs to specify whether it is categorised as "Stock Content" or not. In this case, the copyright notices (license, source, author, language and original title) are queried immediately and the user is required to specify them. This ensures proper copyright usage for the future.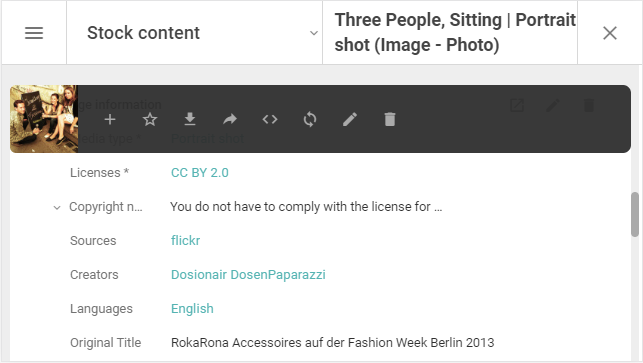 Here is an example, where only the source and author have to be named because it is a public domain image ("Free to use").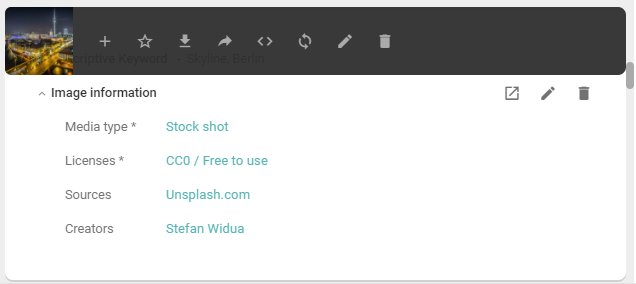 How do I create a copyright notice?
In order to create a valid copyright notice, you need to find out which license is used' whether it is suitable for your project and what information you can then display as text alongside with the actual work, e.g. "this photo was taken in… "
In a content platform the information about the license is connected together, once it has been entered. All you have to do is search for the image in the content platform, find it, use it and copy the copyright notice from the details.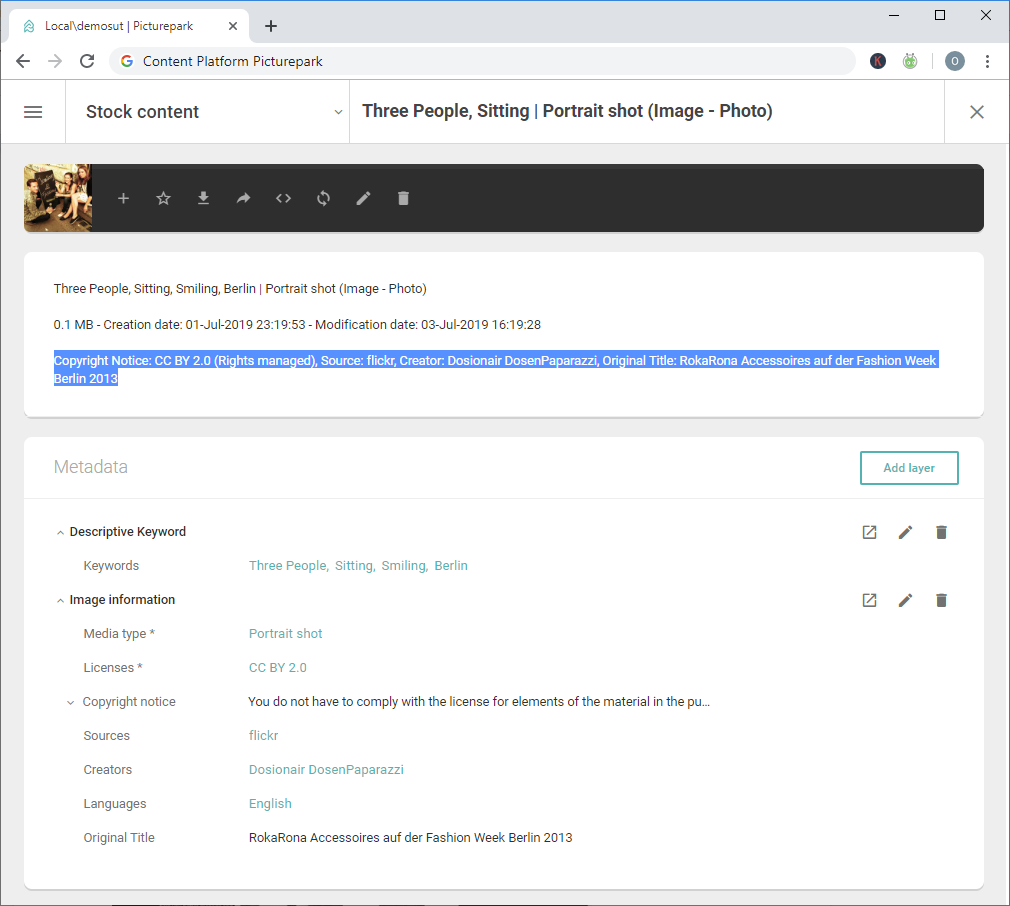 How do I manage copyright notices without a tool?
Basically, it is recommended to use your own images or license-free images (so-called public domain images), for example from unsplash.com.
In general, providing the following information is always helpful:
Source (with link).
Author (with link).
Brief indication of origin.
This shows at least a recognition of the author's work and could potentially raise their profile in multiple ways, as Google considers links as a key factor in the ranking of search results.