| | |
| --- | --- |
| | Connect Picturepark with Showpad. Empower your sales team to deliver the best buyer experience for your customers. Benefit from the most innovative sales enablement company with best-in-class digital content management. |
The Picturepark Connector for Showpad extends the delivery of content managed and stored in Picturepark:
Publish selected product content seamlessly to your sales team, your website, and any connected system.

Repurpose and re-use your content for sales and internal and external communications without multiple uploads.

One single source of truth in Picturepark for all your content with full control over the content life-cycle.

Powerful analytics on communication material used in sales discussions for better selling (external) and content planning (internal).

Content tagging in Picturepark for better context and sales funneling in Showpad using experiences.
Successful sales enablement on top of a powerful content hub will benefit you in many ways.
Effective selling, thanks to available training, coaching, and product and sales content.

Decreased training period for new sales reps, thanks to contextual information, easy access to relevant content, and content self-service.

Drive revenue, thanks to better alignment between marketing and sales.

Team empowerment, thanks to simple automation, artificial intelligence, and life-cycle management.

Customer satisfaction, thanks to better alignment between sales and customers.

Better content performance, thanks to efficient storing, organizing, and using the product, sales and communication material.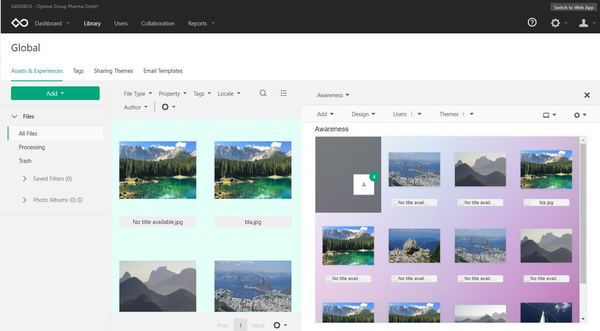 Sales teams get easy access to all the brilliant content you produce for internal meetings, external communication, your website, or social media. Adding your existing content in Picturepark to specific sales funnels or sales training areas in Showpad will exponentially increase the importance of any content:

Presentations about company structure, showing the company behind your products, gaining trust with potential clients, or training your new team members.

Presentations about partner development show your partner network additional trust in your network and gain interest with new partners.

Spreadsheets for calculations on ROI, easily adaptable by potential clients for calculating the value of your products.

Case studies from satisfied customers were published on the website and also re-purposed in sales discussions for social proof with customers.

Strategy documents, for internal training of your team members.

Principles of salesmanship and environmental guidelines show your company culture to interested customers.

or any other resource that a rep might need when interacting with a buyer.