The Picturepark Greenfly Connector bridges the gap between your organization and your advocates, brand influencers, sponsors and internal staff by using the most accurate approved visuals and videos stored in Picturepark for distribution on social media:
Invite your advocates to the app via invite code.

Provide material for direct distribution.

Create content to share or provide a single item with the copy ready to go.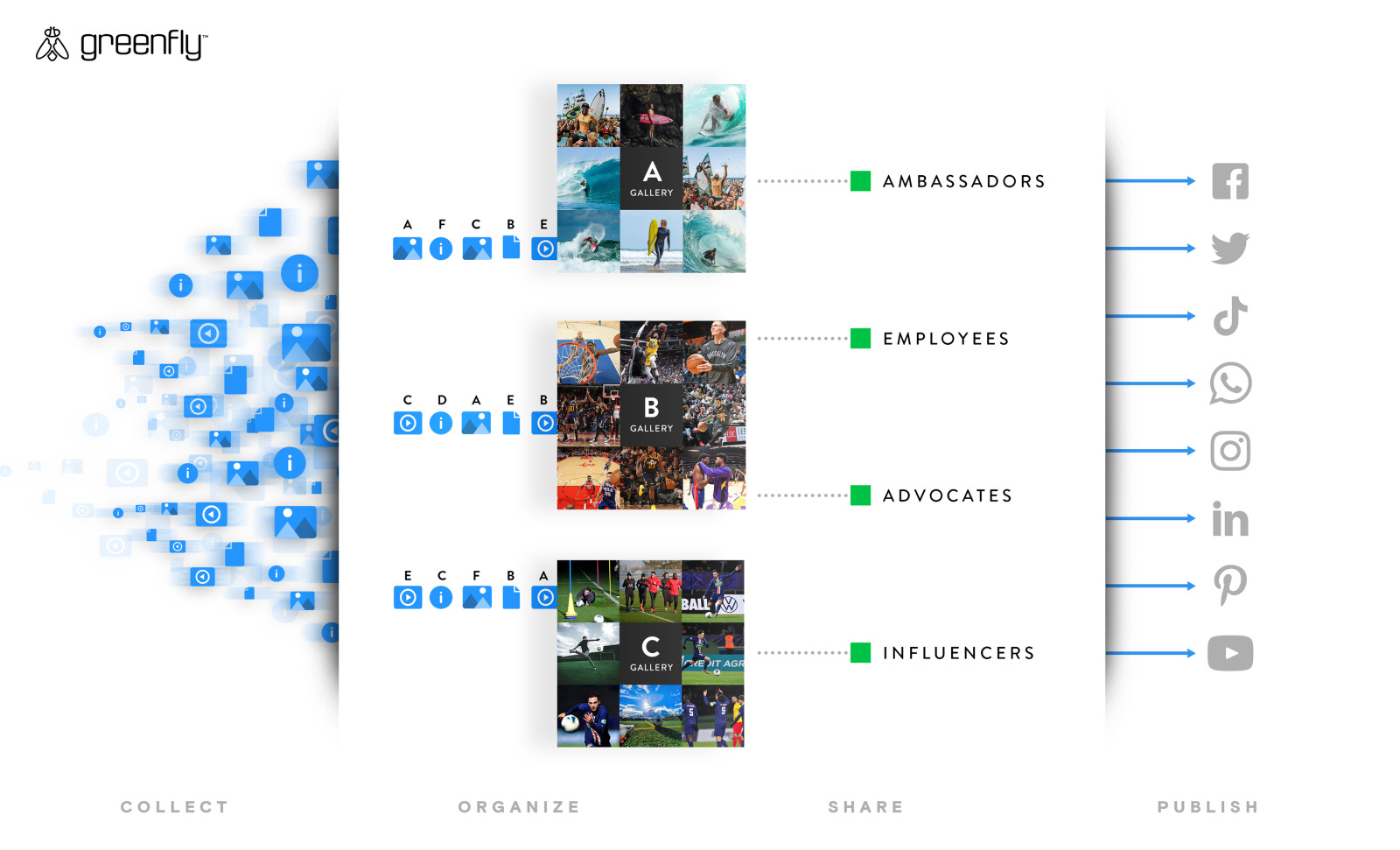 Greenfly media distribution and group collaboration platform boost your communication by giving you the opportunity to provide tailored content to your sponsors, influencers, advocates, and ambassadors. Help them post on social media which helps you engage with your fans; consider delivering for 2.74 billion monthly active users on Facebook and 1.15 billion active users on Instagram.

Share galleries of your most current, brand-approved marketing and product content from Picturapark.

Distribute pre-created social posts (from Picturepark, or via Greenfly), app users can personalize and share on their social accounts in two steps.

Share delicate content privately with advocate groups in advance - in preparation for a product launch.
Track advocate activities and understand who's making the biggest impact on social media.
Synchronize Any Content With Greenfly.
Supply Relevant Digital Assets.
With your communication material mastered in Picturepark you can just tag your desired content to make it is available in Greenfly; either just the file or with the copy for direct posting. In Picturepark automation can support you in tagging only approved imagery or videos; also providing additional tags and keywords. Lifecycle information and other powerful metadata are considered for any content in Picturepark.
Massive Digital Inventories.
Collect, prepare and organize your digital content in Greenfly galleries for easy distribution among your brand ambassadors, influencers, or agencies for brand awareness on social, increased loyalty, and revenue growth.
Publish Complete Posts.
Repurpose approved content and transfer ready-made posts quickly to Greenfly. There is no copying, checking, and accurate product data already applied (product titles, descriptions, vendors, prices, SKU, barcodes, features, and much more).
Support Multiple Brands.
Invite your influencers, brand ambassadors, sponsors, and advocates via invite code to the app, where they find ready-made content produced in the desktop application. Each invite code gives you access to one organization. Having multiple codes allows having multiple organizations on your Greenfly app, to work with the same influencers for different campaigns, brands, or markets.