DAM Services and Metadata Services
Choosing the right DAM software is only one part of the equation for digital asset management success. Make your DAM solution your own through DAM services and metadata services offered by Picturepark or a Picturepark-certified partner.
DAM Services and Metadata Services
Digital asset management services
Enterprise DAM software should provide you with a platform from which you can build a DAM solution that fits perfectly into your organization. Digital asset management services are the bridge between enterprise DAM software that's "out of the box" and "out of this world." Here are just a few of the areas in which Picturepark DAM professionals can help you.
Stakeholders – Who will be using your DAM? It's important that your Picturepark be configured to meet the needs of all departments, offices and clients who will be using it.
Derivatives – What types of files do you need Picturepark to create for you? The possibilities are endless, so your Picturepark services team can help you determine what makes the most sense for your workflows.
User rights (permissions) – Determining what each user or group should be able to do in your DAM helps keep things safe, and it reduces confusion for users. Picturepark can configure user rights to keep your system under control, save you money and make system expansion easier.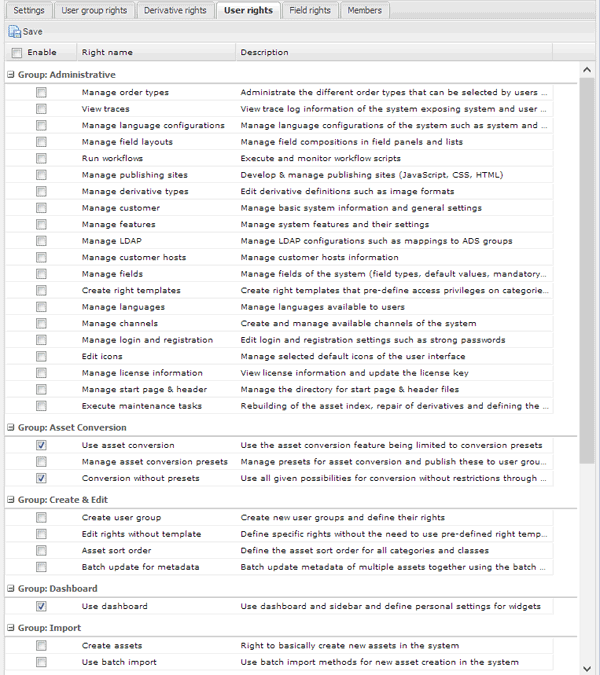 Performance optimizations – Your Picturepark DAM services team can help you optimize your Picturepark for increased performance and reliability. What's more, if you expect increased use of your Picturepark over time, doing things correctly right from the start can save you money and downtime later.
Workflow automation – Behind every Picturepark is a powerful workflow engine that works like a 24/7 DAM assistant. Automatically check for expired assets, push completed works to your CMS or Dropbox, or change user rights based on metadata values, the passage of time or anything else.
Integrations – In addition to the standard DAM integrations available to all Picturepark customers, custom integrations can be built by your Picturepark services team. Connect Picturepark to your CMS, PIM, marketing automation software, or virtually anything else that includes an API.
Metadata services
At the heart of every well-designed DAM solution is properly designed metadata. If your metadata schemas don't fit your workflows and institutional needs, your DAM will not fulfill its ultimate potential. Speak to Picturepark service professionals and find out how Picturepark makes metadata more powerful.
Adaptive metadata – Unique to Picturepark is the ability for metadata schemas to adapt to the lifecycle of your content. This means that works-in-progress with have the Due Date and Project Manager fields they need, while your approved materials have fields that help you track and control usage. You won't see Duration fields for JPEGS, and you won't see Page Count fields for videos. Picturepark services professionals will help you see your digital assets in a new way that will better serve your needs now and tomorrow too.
Taxonomy design – Picturepark frees you from the restrictions of operating system folders. This means you can stop thinking of categorization in terms of "where" files are and start thinking in terms of "what" they contain. Work with Picturepark to build taxonomies (one or more) that reflect how you want to be able to find things—not just how you find them now.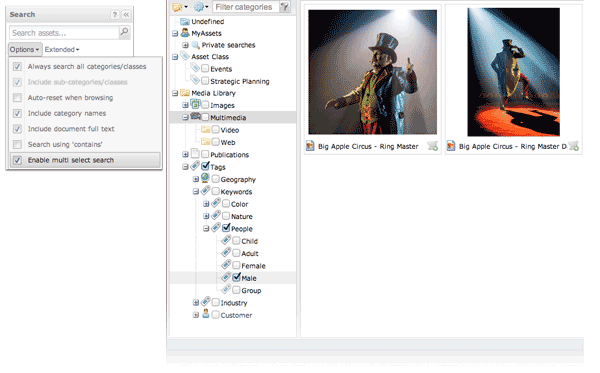 Controlled vocabularies – To help improve metadata consistency, your Picturepark services team can integrate existing corporate vocabularies, or help you devise new vocabularies that describe your content. Controlled vocabularies make metadata input faster and more reliable, and they make search easier. Is it a plane, an airplane, an aeroplane or an aircraft? Use controlled vocabularies to take ambiguity out of your new DAM and make it easier to use.

How much metadata is right? – Picturepark can help you determine how much metadata you need to properly manage and find your digital assets. You might think more is better, but too much metadata can make a DAM confusing and difficult to use. Work with your Picturepark team to determine what makes the most sense for your workflows.
Which metadata standards are best? – Any time you can leverage a standard, you're better off. Picturepark supports IPTC, PLUS, Dublin Core and other metadata standards too. If you plan to embed metadata into your files via XMP, then you need know which standard will work best for you. If this concept confuses you, don't worry—Picturepark will walk you through everything you need to know.
Metadata layers – When more than one metadata standard is necessary, or when you need to layer a corporate metadata schema over a metadata standard, Picturepark will build metadata layers you can use to keep things organized. Users will see only those fields that make sense to them, so confusion will be minimized. Metadata layering is made possible by the Picturepark's unique adaptive metadata capabilities.
Levels of service available to you
Let Picturepark take the lead on making your DAM hum, or work directly with your Picturepark services team and contribute your expertise to the process. Either way, the guidance of a Picturepark services professional will help ensure you get from your Picturepark DAM exactly what you expect.