Managing Licenses: Requirement or Redundant?
By Olivia Schütt • Aug 29, 2019
Shutterstock's license agreement consists of 5888 words. Getty Images' license agreement is an even longer 8736 words. Flickr refers users to read up on Creative Commons: a website with an incredible 35'000 subpages. The Picturepark Cloud terms of usage is a total of 6605 words long.
Licenses are all too often dismissed with a quick "OK" for the user that must agree to them to gain access to a service. Yet in reality, users should have a look at the license terms, or at least have a general awareness of them. License violations can quickly become very expensive, this is for two reasons: a loss in earnings due to the time involved, in addition to the penalties which must be paid. In many such cases, hiring a private photographer would have been the far cheaper option.
Fortunately, there are systems such as the Picturepark Content Platform that allow content management policies to be easily set-up and applied. Part of this policy, the Content Strategy, should always be about license management.
What Kind of Licenses are Out There?
A detailed description of all licenses available worldwide would be almost impossible to list, so we will only list the most pertinent. Wikipedia lists many details about licenses, so that's a great resource to access for reference material.
How 'Free' is Free Software?
Free Software, refers to software that may be used, distributed, and modified. This freedom of use is further restricted by the following key licenses:
The GNU General Public License (GPL) allows for free usage, although a 'copyleft' may further restrict this license. The copyleft specifies that all derived works must be redistributed under the same license.
The BSD license, which includes the Apache license and is similar to the MIT license, merely requires that the warranty disclaimer not be removed.
A list of free software can be found by searching for Free/Libre Open Source Software, as well as for the corresponding acronym FLOSS.
What is Public Domain?
However, what is 'public domain' is regulated in different ways and is interpreted differently by different nations.
There is also the so-called 'public domain'. In this area, one can find licenses such as the colourfully named Do What The F*ck You Want To Public License (WTFPL) or the CC0.
Works that are released under this license, and even the license itself, belong to the world community and do not carry any license restrictions. However, what is 'public domain' is regulated in different ways and is interpreted differently by different nations. Some member states of the EU actually have no public domain at all, which is why license restrictions still apply, despite the fact that there are no license restrictions.
What is Creative Commons?
Creative Commons is a non-profit organization that has been publishing standardized licenses since 2001, to simplify their usage. They have a license 'chooser' on their website that provides a helpful resource.
What is 'Non-free' Software?
In addition, there is non-free software, which is subject to the respective license terms of the publisher. These are usually included in an End User License Agreement (EULA). Examples of this includes the licenses for used for Picturepark or many of Adobe's products.
How Can I Remember All of These Licenses?
Ideally, a content strategy will define clear guidelines for the use of content. For example, it might outline that only works licensed under Creative Commons should be used. Often, usage is restricted to public domain licenses; so that the indication of the author or source is optional anyway.
One better take note: when it comes to licenses, the devil lies in the details.
Guidelines for the use of software should be clearly defined in development and IT. However, this affects marketing too. A training video on the use of APIs that is shot within Microsoft's Visual Studio requires a corresponding license from Microsoft, that allows for screen recording. One better take note: when it comes to licenses, the devil lies in the details.
How to Train New Employees About Licenses?
A content platform is recommended, which is used for the administration of licenses. The Picturepark Content Platform contains a list of all permitted licenses, so it's possible to get an overview of them there. A new employee is saved the boring task of reviewing many PDF guidelines. They can simply browse through the system and view the details, on demand.
Using the virtual organisation, the Fine Organic Food Association (FOFA), as an example, GNU, CC BY and Getty licenses are allowed and in full usage. Software licenses are not included, for the time being.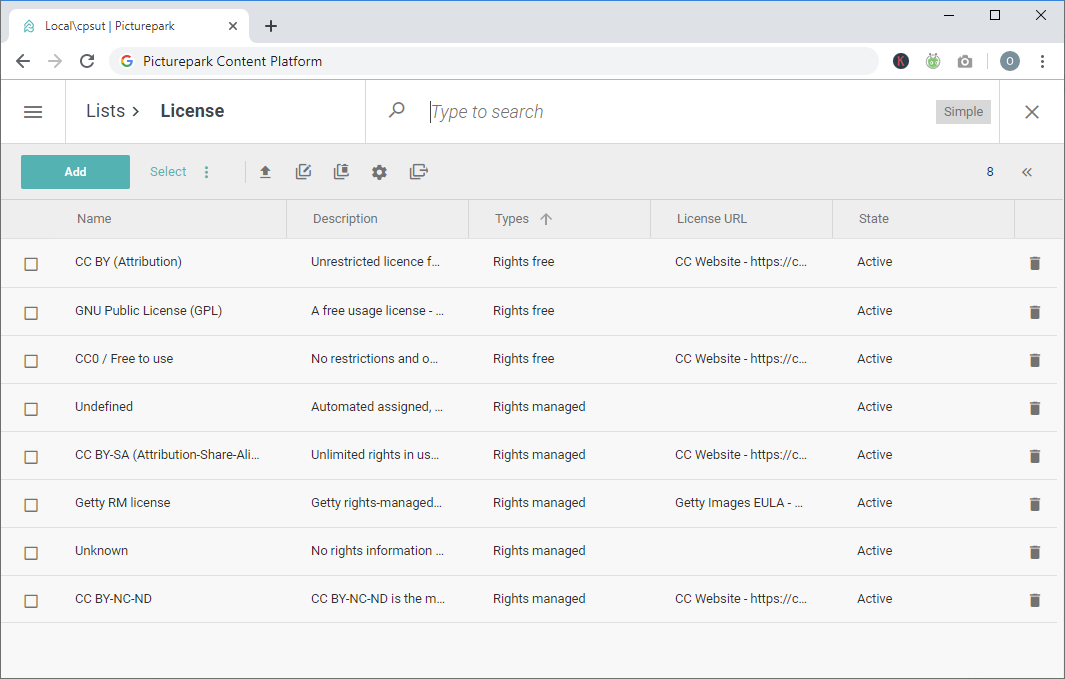 In the details of the respective license, further requests are made ("attribution must be provided") and a link to details provided as well. The status shows me whether the license may still be actively used or not. An introduction to a company's license management for a new employee could not be easier.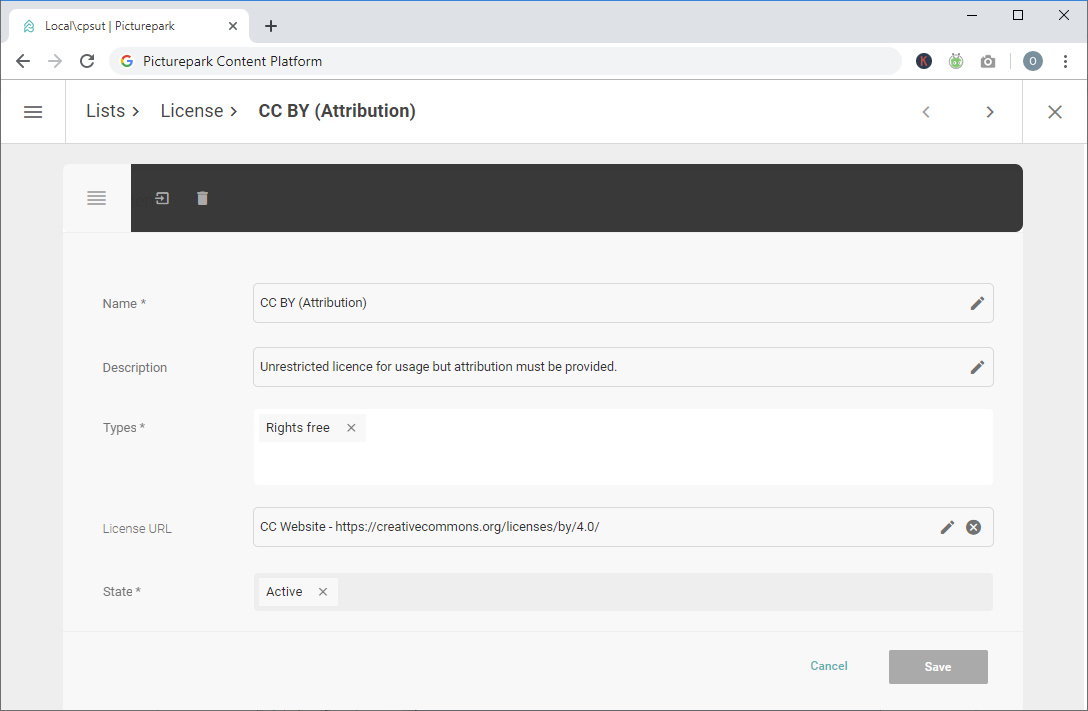 How to Edit License Details?
The licenses in the Content Platform can be edited, updated or deleted directly; all within the list in which they are displayed. Of course, I can create an export of all licenses at any time and further process it using Excel or have it checked by my legal department as well.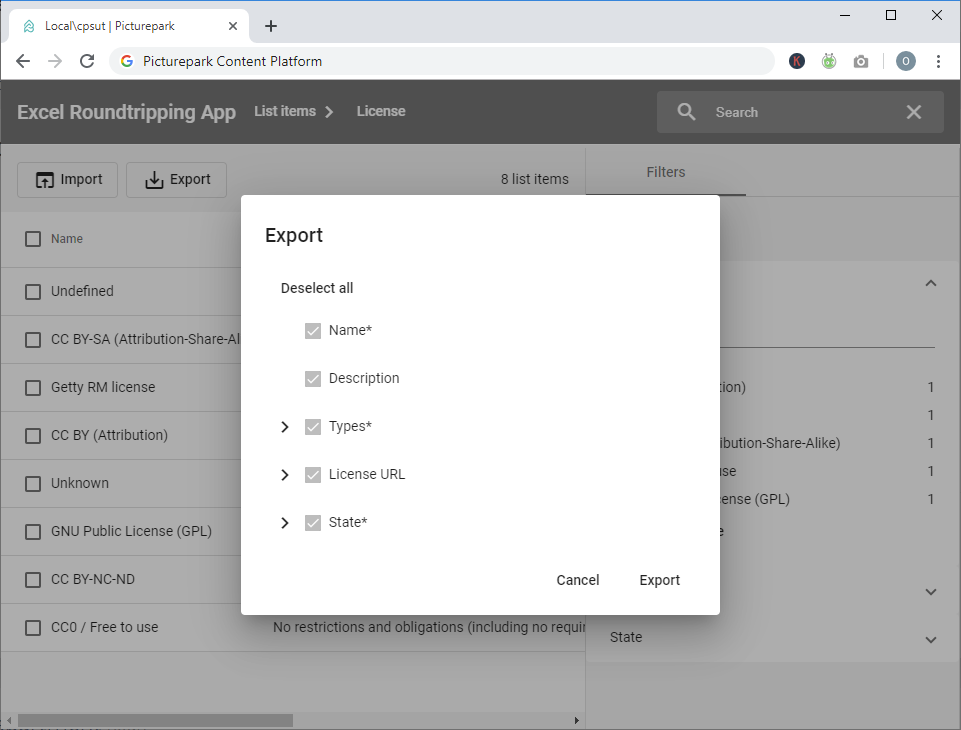 The exported Excel document would contain all selected information and could be used again for a later import. In an optimised workflow scenario, the person in charge of the license would directly take care of the administration and correctness of the licenses.
Is it Possible to Edit Licenses?
To edit content that comes with a pre-assigned license, the information can be edited directly in the system, per item or collectively for all affected items using batch editing. An export to Excel is also possible too. For example, a user could select all CC-BY elements with the license filter, listed under the 'Grow-Shot' type and then export all the license information to process in Excel.
After the processing in Excel or an alternative program, they could then save and re-import it.

During the re-import, they will have to connect the columns with the fields of the content platform and get a preview of the new metadata, which is then written back to the content.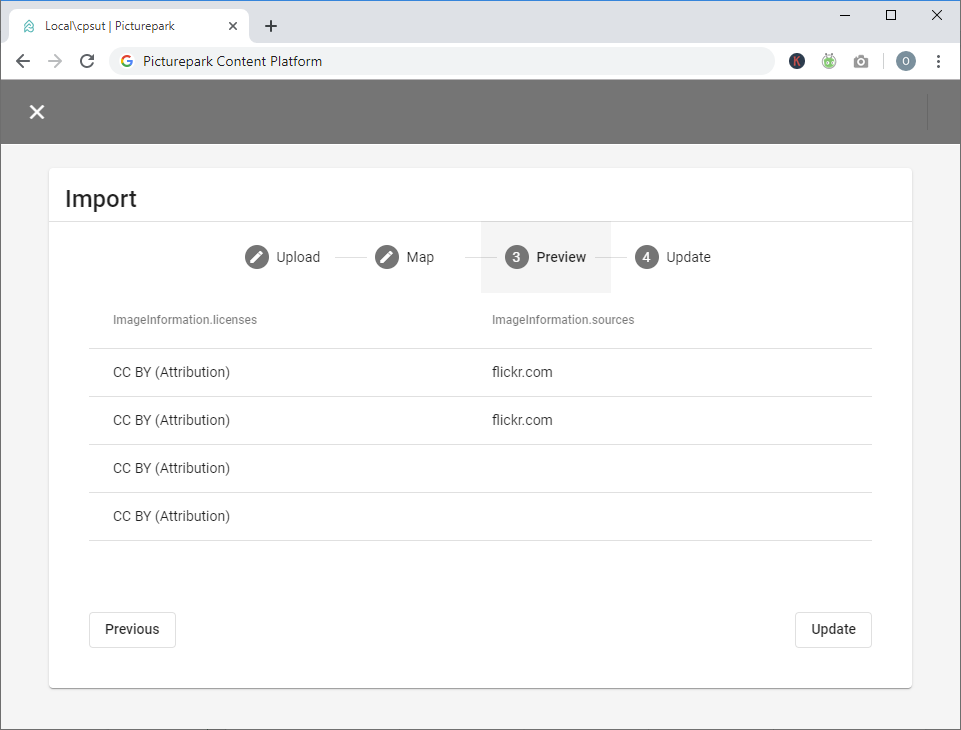 From the updated information, the updated copyright notice will appear in the Content Platform and they image can be used by others: safe in the knowledge that it comes with the correct copyright notice.