By Olivia Schütt • Aug 15, 2019
This year's Berlin Fashion Week finished on 6th July 2019, marking the end of a week full of buzz and excitement. During the event, there were many reports and blogs that went out, many of which dealt with the topics of fashion, lifestyle, gossip and… more gossip! All of the articles put a lot of effort into their search for the perfect photo accompaniment. They all wanted that one special image that would immediately attract readers to their site and get everyone talking on social media. The keyword here: copyright!
For get that perfect picture, there were three options available to budding fashion journalists and bloggers:
Book a flight to Berlin with their own photographer.
Search for royalty-free images.
Search for images that were allowed to be used under specified conditions.
Copyrights for self-created pictures are simple: they either belong to the photographer, to a buyer or to a client.
Not every writer had the free time to be able to fly to Berlin at short notice. And though, the city itself has its fair share of bloggers, they don't all live there… yet! Visitors to Berlin Fashion Week can access a collection of pictures of the catwalk and featuring other Berlin landmarks. Such a photo archive is a gold mine. Copyrights for self-created pictures are ideal and are simple: they either belong to the photographer, to a buyer or to a client. However, when it comes to using these photos in a blog or publication, the costs can be prohibitively high.
Which photos can be used? To add to that: how exactly can they be used? A content strategy with clear copyright guidelines can answer both of these questions. The content strategy must cover the areas of copyright ownership and usage rights. For a simple application, it is recommended that these guidelines are included on the content platform, where the photos are managed. This makes life much easier for those searching for how to use images and means that they do not have to use additional tools.
Right-Click: Copyright Notice
Those who organise images and other content correctly: controlling their use in a targeted manner, will not 'sweat it' later on when it comes to copyright issues. As a content manager, I can achieve this aim easily by using a fully-featured content platform. On a platform such as this, I can go beyond just managing the content: I can also define rules and workflows for its use.
For example, when it comes to stock content, the license is displayed in the correct version and with all necessary other license information.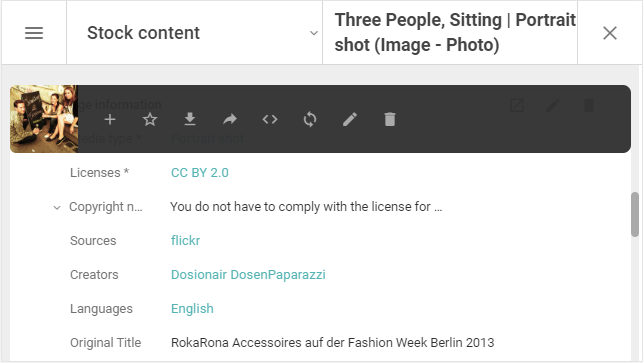 This information can come directly from any third party system. Whether that is Flickr or GettyImages, via an API, an interface or via a platform that involves no manual input at all. As my mother would say: "that's magic".
Of course, the Content Platform is configured in such a way that these copyright requirements are also enforced for manual imports too. After the import of images, processes are defined, ensuring that all input is both correct and reliable. This means that in the creative process users, whether they are fashion bloggers or otherwise, can draw on the full image catalogue and use an image of their choice. Common questions that get asked about copyright such as "must I name the creator, link to the image, is short form is sufficient etc" no longer need answering.
The workflow of users is as follows: search for an image, select one, use the picture, copy the copyright notice and then they're guaranteed to stay on the safe side of IP law.
All answers to these questions are already available on the Content Platform, along with valid copyright notices. The workflow of users is as follows: search for an image, select one, use the picture, copy the copyright notice and then they're guaranteed to stay on the safe side of IP law.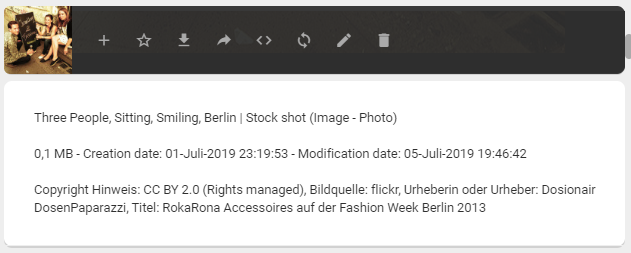 Managing Royalty-Free Images
Royalty-free images are even easier to use on the platform. These so-called 'public domain' images belong to the public themselves. As mentioned above, photos from Fashion Week can be found without needing to get a flight to Berlin but rarely are these shots particularly up-to-date, especially when it comes to event photography and even when available, they are usually very generic. If you search on a royalty-free resource such as unsplash.com, you won't find much about Berlin Fashion Week. Though you will find many images of famous Berlin landmarks, this tends to always be the case with event photography: royalty free imagery is aimed at longevity.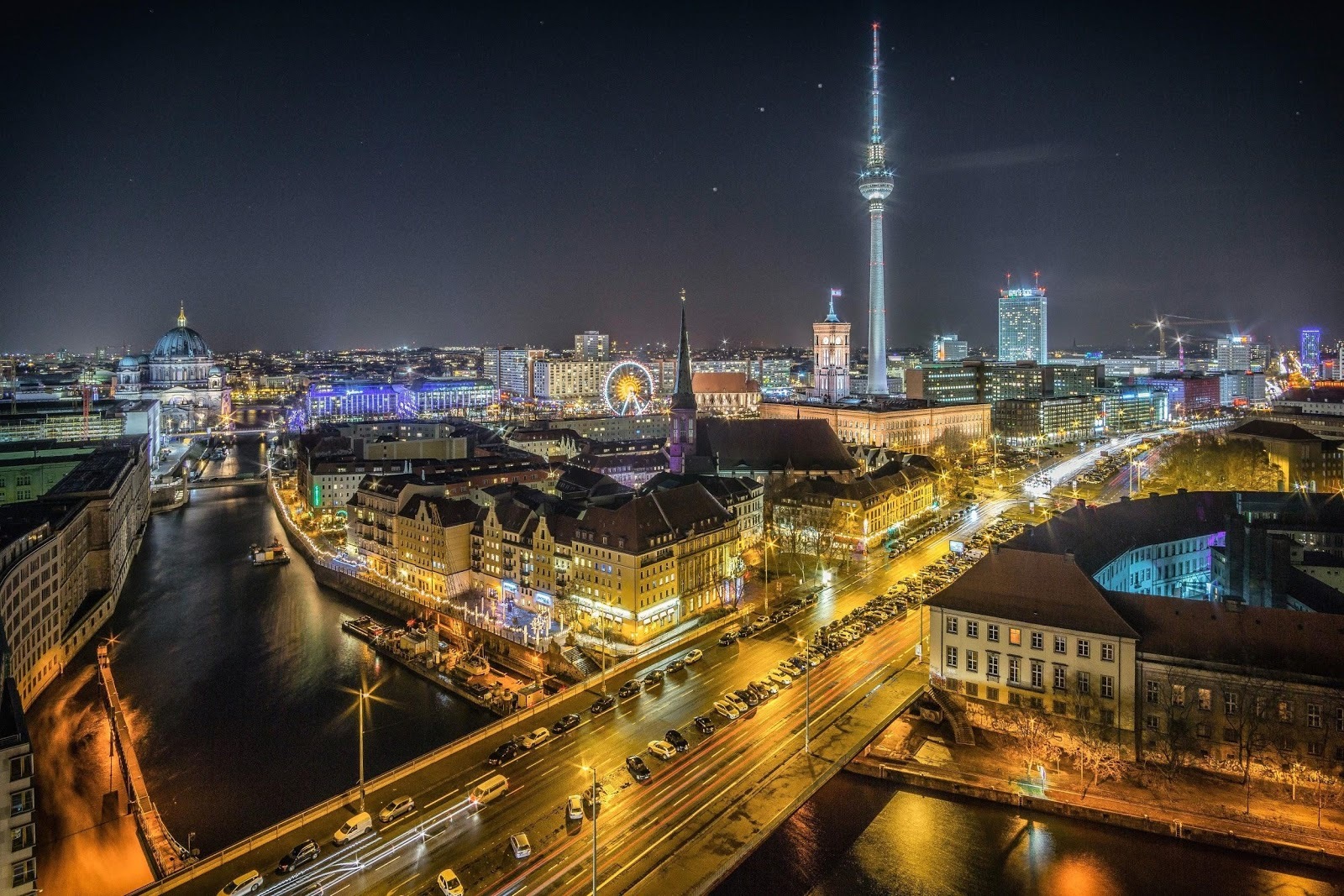 Copyright notice: CC0 / Free to use (Rights free), Source: Unsplash.com, Author: Stefan Widua.
A good content strategy also applies to the management of royalty-free works. If these are managed in the centralised content platform, the same as with the copyright protected images, the photographer's information is easy to access. Though many royalty-free images do not require attribution, I always like that those that use the content that I manage have a choice in the matter.