| | |
| --- | --- |
| | Find and use Picturepark images, video, audio, PDFs and more from within WordPress. |

The WordPress media library can store the images and other content you use on your website, but once that content is inside WordPress, it is available only to website editors. If you want that same content available to others, you must manage content in two places: your shared repository and WordPress.
By contrast, content that is uploaded to Picturepark is instantly accessible to all permitted employees, agencies, partners, and others, including your WordPress editors.
Website editors gain access to corporate-wide content repositories
Live content links always display or download to the most recent versions of images, video, PDFs and more
Content copied into the WordPress media library is updated when the source content is updated in Picturepark, so files are never outdated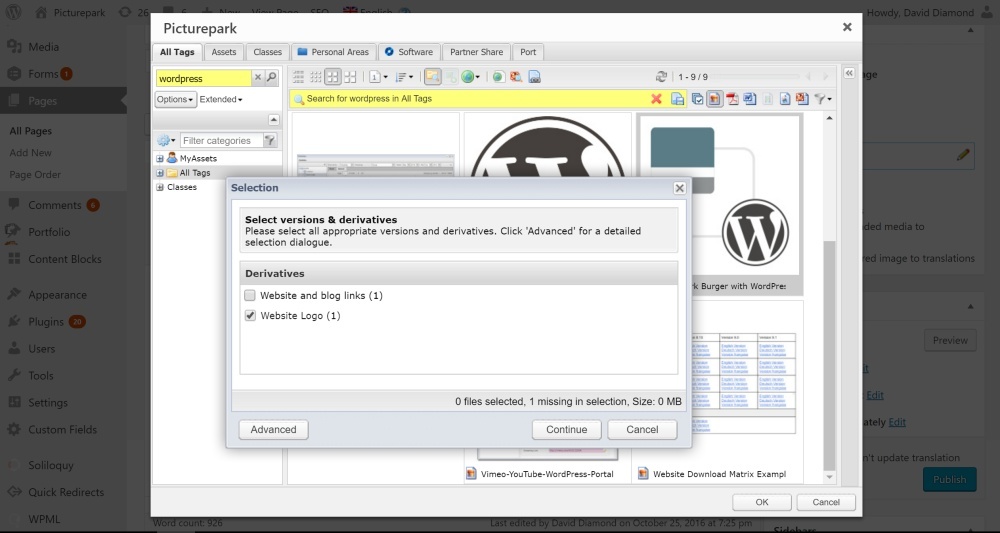 WordPress editors find the content they need, without having to worry about formats. Picturepark automatically provides the content in website-suitable formats.
By using a single content repository, the same content used on your website can be used by sales teams for presentations, by social media managers for memes, and more. There is no need to manage content copies in multiple locations.
Picturepark can also route that same content to your other business systems, such as SharePoint, your product information manager (PIM), Dropbox, YouTube, Vimeo and more.
By using Picturepark as a content hub:
Content contributors can add their content to one system, without the need to copy it to other systems that need it
Content managers can manage content in one system, without worrying that protected content is "leaking out" from some forgotten source
Employees, partners, press professionals, customers and others can always find what they need from one location
Workflow Example
The most common DAM Connector for WordPress workflow is simple:
Alice from your agency uploads a Photoshop or Illustrator master file into Picturepark
Content manager Dan reviews the content and marks it "available for website use"
WordPress editor Hanne finds the content from within WordPress and adds it to a new website page
What gets placed on the WordPress website is a JPEG version of the master image that Picturepark created in the background. The image is in the exact dimensions and resolution specified for your website images, so WordPress editors don't need to worry about file format conversions.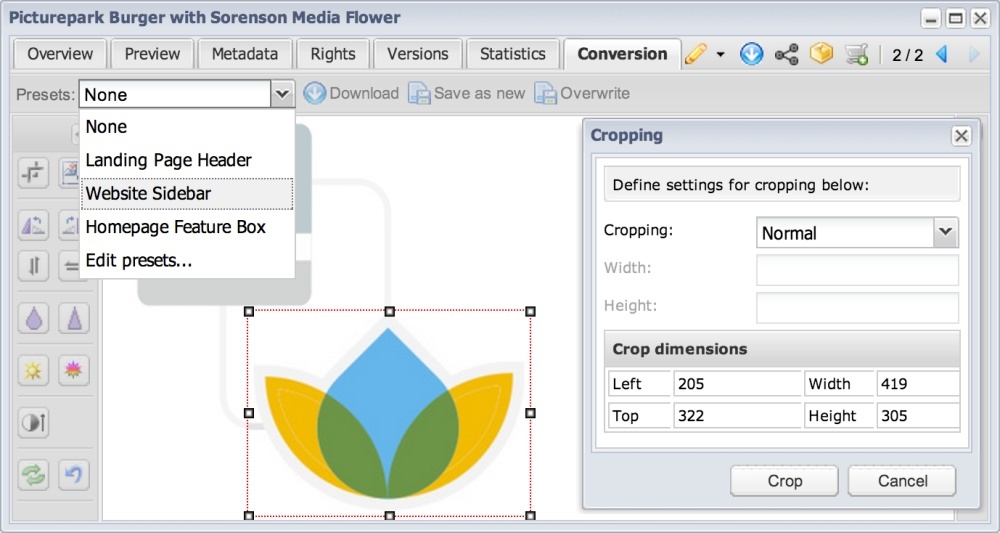 Picturepark conversion presets make it easy for website editors to access content in the exact proportions they need. Permitted users can even create cropped versions and other processing variants on demand.
If the Photoshop source image is updated, Picturepark updates the WordPress file automatically. This means your content editors don't have to remember to tell website editor Hanne about content updates.
Better Search and Adaptive Metadata™
Finding content in the WordPress media library can be difficult. WordPress provides no custom metadata tags to make search easier, so you are left hoping your file names make sense, and that your website editors who know what to search for.
Picturepark Adaptive Metadata layers enable you to:
Add custom sets of metadata fields that are specific to use of content from within WordPress
Indicate to Picturepark users when content has been used in WordPress
Website editors use Picturepark search and browse features to find content, so they can find suitable content quickly. When the "WordPress Content" metadata layer has been added to a piece of content, metadata fields become available that make search easier and make it clear which content has been used in WordPress.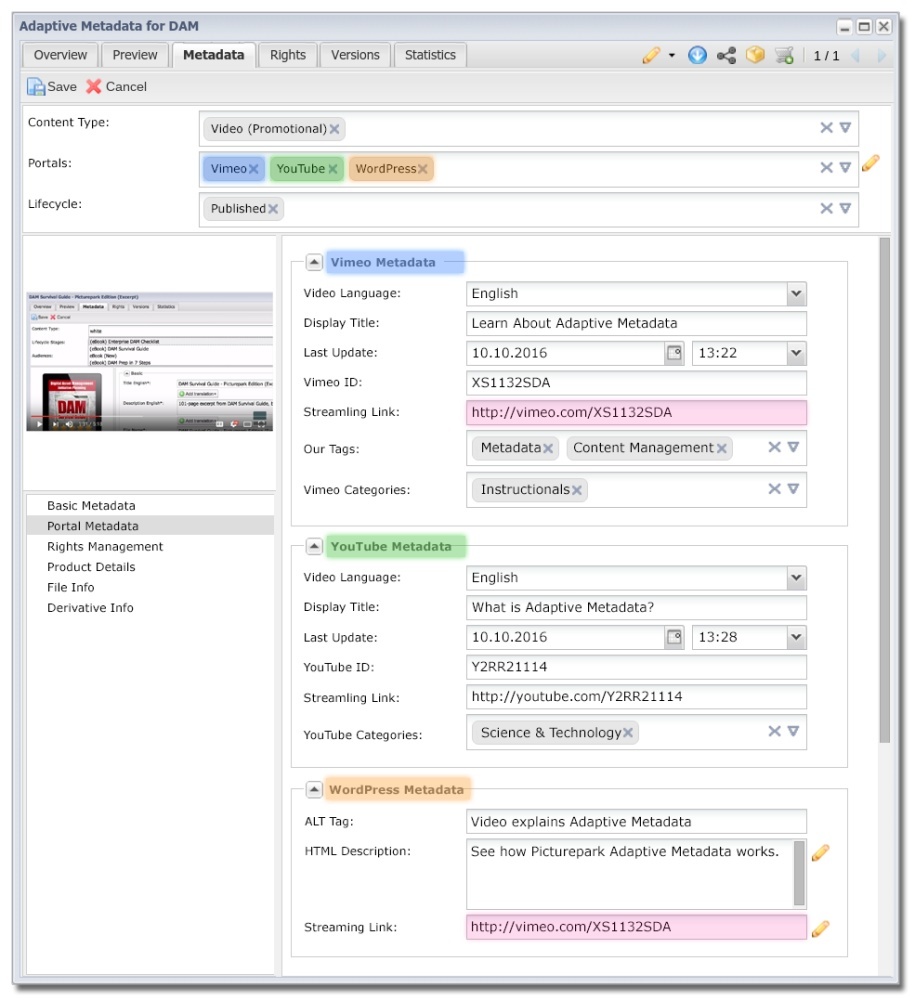 Add the "WordPress" tag to provide a new layer of metadata fields that are specific to using that content in WordPress. You choose the fields you need, so users see what makes sense for your organization.
Display or Download Always-current Content
When accessing Picturepark content, you have three options.
Copy Picturepark content to the WordPress media library
In this case, the content is copied from Picturepark to the WordPress media library, from where it can be placed in website pages like any other content in the library. What's different about media library content that has been placed by Picturepark is that is updated automatically when the source content is updated in Picturepark.
Link directly to the Picturepark content
Picturepark-direct links load content from Picturepark each time the page loads. (The content is not copied into the WordPress media library.) This option is popular for embedding videos that are live-streamed from Picturepark, but it can also be used for images too.
One advantage to live linking is that Picturepark usage statistics can show view and download traffic from WordPress. This offers you a global view on content access, rather than having to aggregate usage statistics from multiple systems.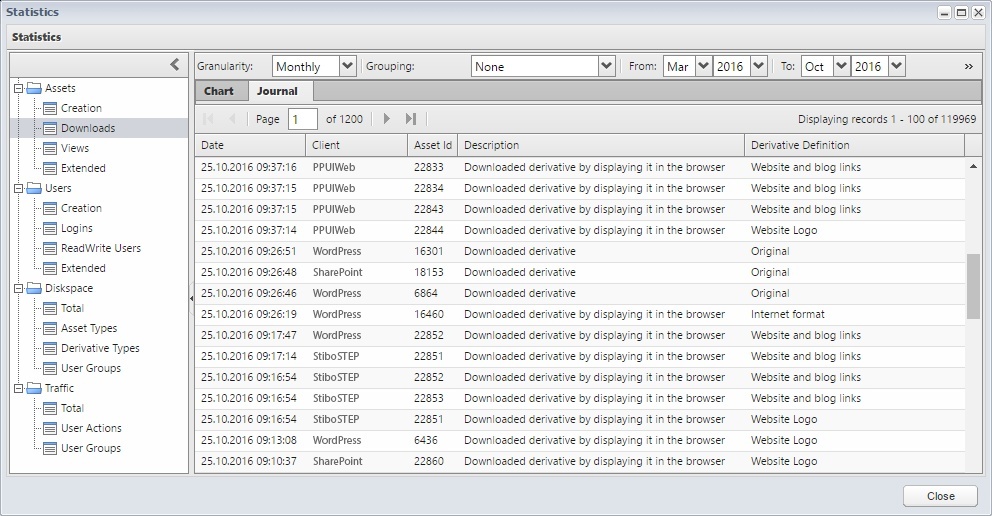 In a single view, Picturepark shows view and download statistics for Picturepark users, DAM Connector for WordPress, and other connected systems too.
Add a download link text or an image
Finally, WordPress text or image hyperlinks can be used to download Picturepark content. This becomes very valuable when provide website links to many documents, such as user documentation. Build your website download links once, and then manage version updates from Picturepark. Upload a new version of a manual and the WordPress download link fetches that new version, without any website edits.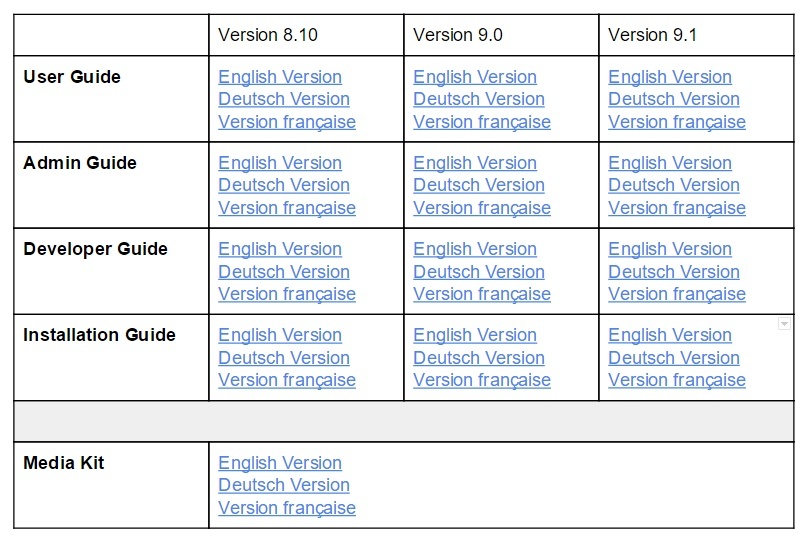 Manage entire documentation suites from Picturepark without ever having to update website links. Download links always point to the most recent version of content uploaded into Picturepark.