| | |
| --- | --- |
| | Upload and manage video using Picturepark, then publish to Vimeo in a single step. |

Increase efficiency and implement a smoother workflow by using this connector to publish your Picturepark videos instantly, all in just a few clicks.
Add tags and descriptions in Picturepark that make your video content easier to find in Vimeo
Mark videos as being available to anyone or just certain people you choose
Manage video in a central Picturepark repository that keeps source video accessible across your enterprise and external channels
Add Metadata Layers to Vimeo Video
Metadata is what makes your videos findable on Vimeo. Picturepark enables you to add any metadata values you need. Picturepark's unique Adaptive Metadata™ layers enable you to add a single tag that:
Provides the metadata fields you need to manage video
Marks the video for upload to Vimeo
Content not intended for Vimeo won't have these video fields, so your Picturepark stays clean and easier to understand.
You can update tags or even complete videos at anytime. Picturepark pushes the updates to Vimeo automatically.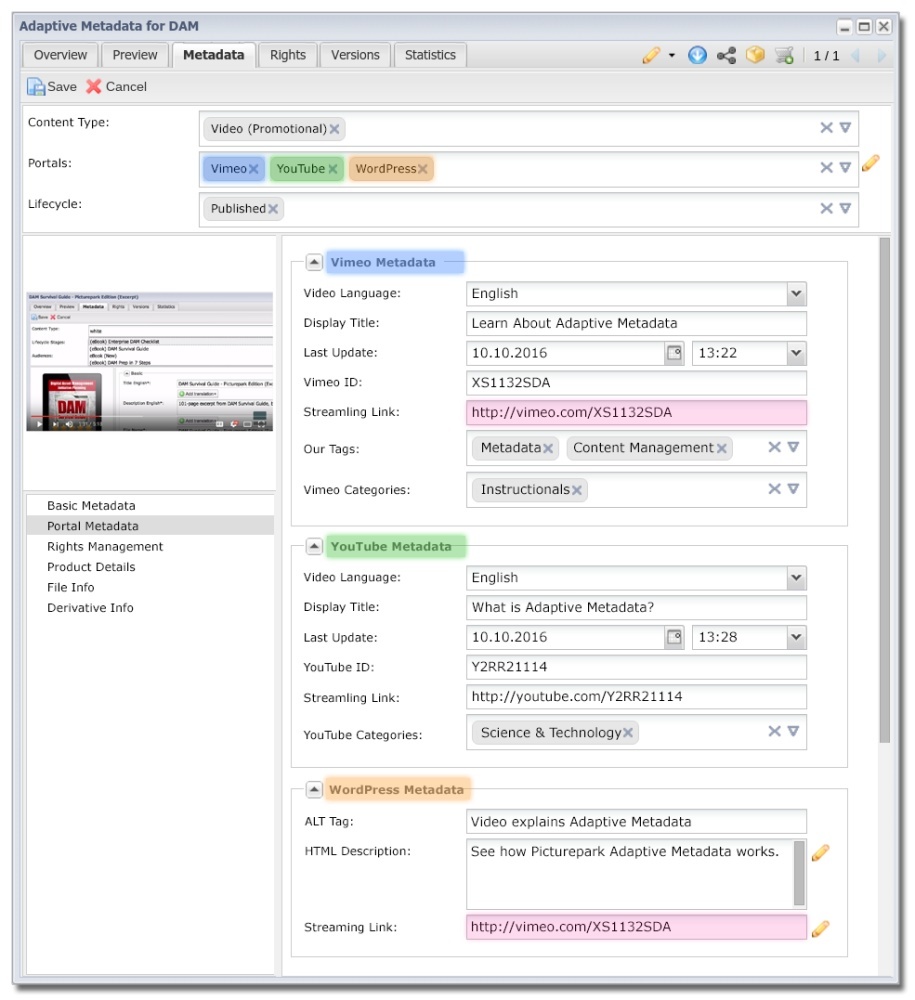 Add a single tag to reveal the Vimeo fields you need on any video content. Content that's not intended for Vimeo won't have these fields. DAM Connector can coexist with connectors for other systems. This image shows fields used to communicate with DAM Connectors for YouTube and WordPress. The Vimeo playback link (pink highlight) is used on the WordPress website.
Manage Private Vimeo Channels Too
Each video you upload can be made available via Vimeo to search engines or anyone else, or just to those with whom you share the link. This enables you to keep some videos available only to employees, partners, customers or others.
A link to each Vimeo-published video is available from within Picturepark. Your teams can use Picturepark to find the videos then need, then copy those links to newsletters, support documents or anywhere else they're needed.
Ideas for private video publishing include:
Troubleshooting videos your Support team shares with customers
How-to videos you embed into your online documentation
Sales webinar recordings you want only partners to see
Videos can be switched between private (only me) or public at any time.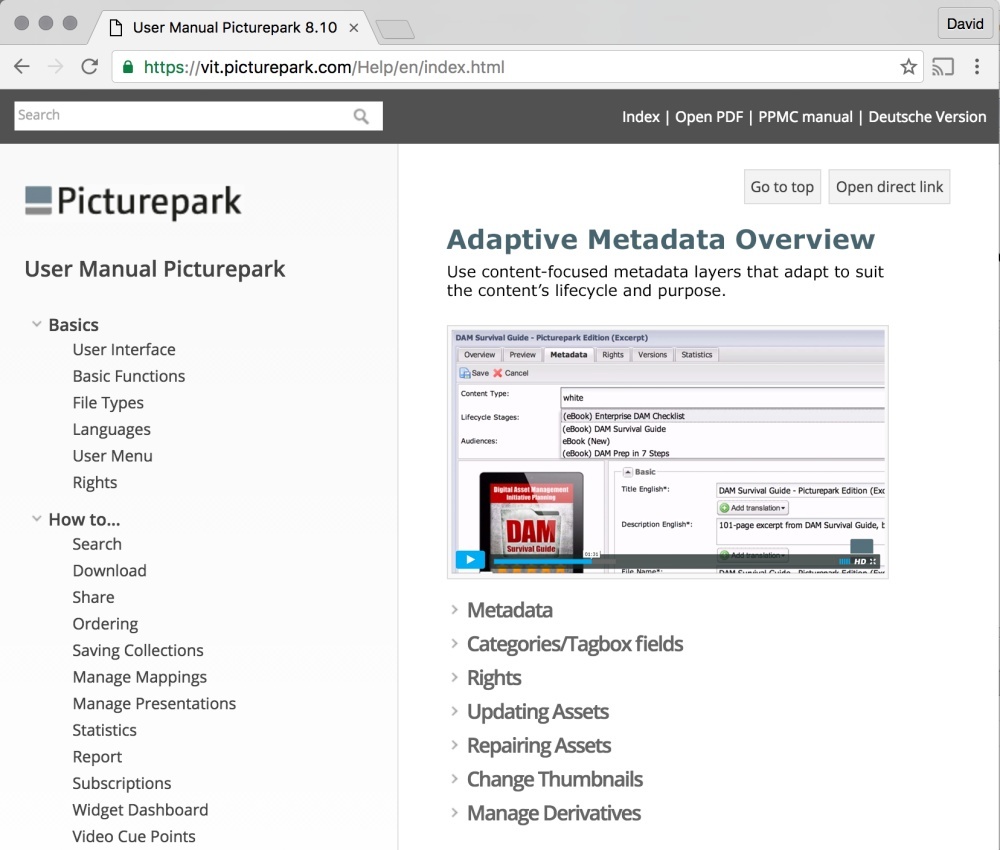 This Vimeo video has been embedded into an online help system using a link provided by Picturepark. Because the link is not public, the video won't be found by users searching on Vimeo.
Keep Video Accessible from Everywhere
There are advantages to managing video in Picturepark rather than uploading directly to Vimeo:
Your source videos are always accessible from a single portal
You can add metadata that makes videos easier to find
Videos are available to other business systems, such as your website CMS or product information manager (PIM), without having to be uploaded to multiple locations
Videos can be streamed directly from Picturepark, which means you aren't forced to publish everything to Vimeo
Employees, partners and others can find your videos using the same mobile-friendly Picturepark frontend they use to find other types of content.